This Green Chile Chicken Enchilada Casserole has been compensated by Collective Bias, Inc. and its advertiser. All opinions are mine alone. #Homemade4TheHolidays #CollectiveBias
When I was a kid, my mom would always make the best casseroles. They were known to us as comfort food. But for my mom, I think it was simply a way to make a quick and easy dinner. Especially around the holidays.
One such casserole I remember fondly is her Green Chile Chicken Enchilada Casserole Bake. I didn't know it at the time, but it is really easy to toss together when you are pressed for time!
The other great thing about this Green Chile Chicken Enchilada Casserole is that it can even be made as part of a freezer dinner. Create it ahead of time to make your holiday season even easier! But I'll get to that in a few.
Stock up on Green Chile Chicken Enchilada Casserole Supplies
When we have company coming in, I always make a trip to Sam's Club to stock up my pantry. This way I have enough for the holiday horde.
If you love the sample hour as much as my family does, Sam's Club will be hosting their annual Holiday Taste of Sam's event, a huge in-club demo sampling occasion. Swanson® Chicken Broth will be sampled with Idahoan Mashed Potatoes on Dec 21 & 22. Not only will you get to try some samples but you will also be able to take advantage of the temporary price reduction of $1.50 off Campbell's® Condensed Cream of Chicken Soup, and Campbell's® Condensed Cream of Mushroom Soup.
One of the advantages of shopping at Sam's Club is buying in bulk. That means I can easily stock up my pantry for the holidays, but with the pantry packs I will also have extras for the local food bank drive. Our boys are part of the scouting for food program and they will soon be going door to door collecting food to be donated.
To get the family excited and involved, you can get any bright and cheery Christmas bag. Set it up to start collecting extra cans of food now. Then when the scouts come around, the donation is ready for them.
Make it a goal to fill the bag full, getting a few extra cans of food with each shopping trip. This way it won't be a big pinch in the grocery budget all at once. But when you are done, you'll have an awesome food bank donation.
Our local food bank is always requesting chicken broth and creamed soup donations. So I can grab a case of each Swanson® Chicken Broth and Campbell's® Condensed Cream of Chicken Soup at Sam's Club to stock my pantry and put a few cans/cartons in the food bank bag.
Want to grab some cases to be ready for the holidays too? Simply click the Image below and you can purchase right from your computer!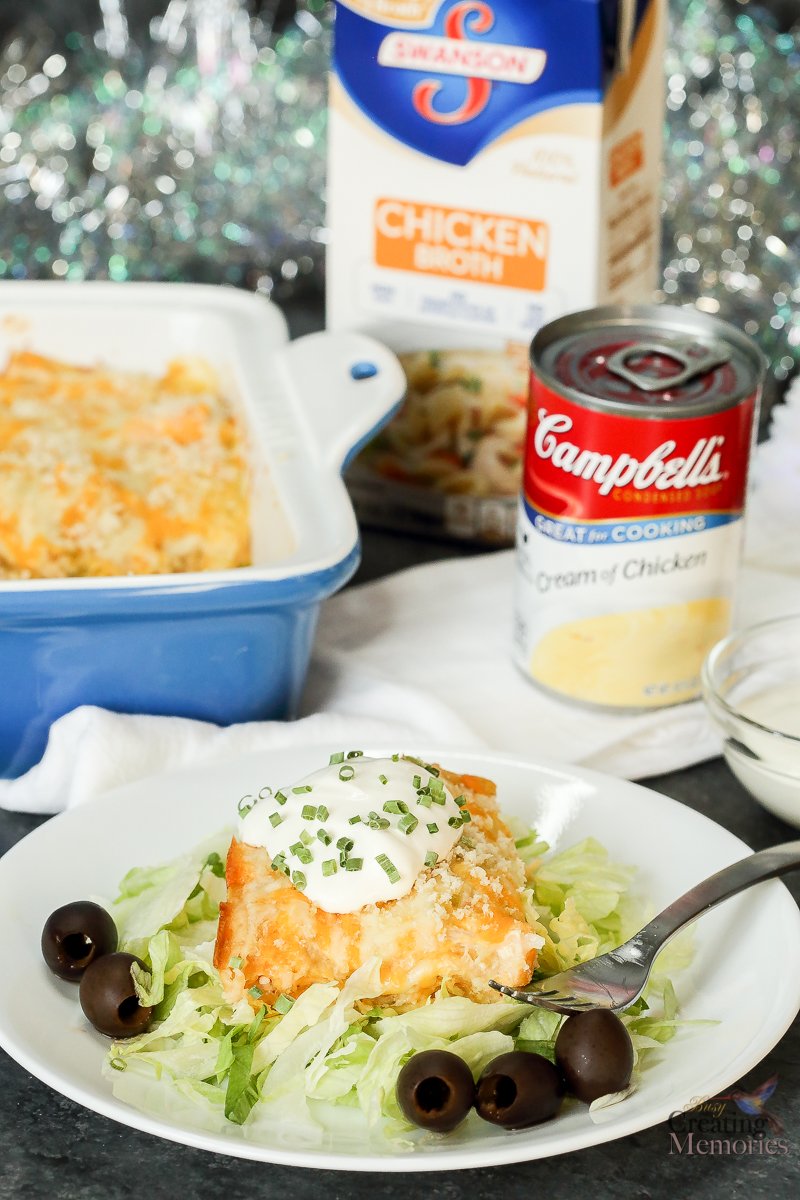 I love to stock up my pantry with Swanson® Chicken Broth and Campbell's® Condensed Cream of Chicken Soup because I use them ALL THE TIME.
I prefer Campbell's® Condensed Cream of Chicken Soup because it is so creamy and smooth without lumps. And it contains no artificial flavors, colors or preservatives.
Campbell's® Cream Soup varieties offers the most amazing creamy flavor to recipes. Like our Creamy Chicken Enchiladas, Easy Slow Cooker Pork Roast, Cheesy Potato Casserole, and now this super easy Green Chile Chicken Enchilada Casserole. In fact, I use Campbell's® Condensed Cream of Chicken Soup for recipes more often than I ever use it as a soup.
It's also nice that I can grab a big box of Swanson® Chicken Broth. I can never keep that in stock in our pantry because I use it so much. There is a reason Swanson® is America's #1 selling broth. It is 100% Natural with nothing artificial added (no MSG, no artificial flavors or preservatives).
Not to mention, it offers the perfect balance of flavors from chickens farm raised in the USA cooked with vegetables and herbs picked at the peak of freshness. It's why I love to use it in our Instant Pot Pot Roast, our massively popular Chicken Carbonara Recipe, and of course a creamy chicken noodle soup.
I especially love that it comes in resealable packaging so I don't have to worry about not using the entire cartoon all at once.
Easy Green Chile Enchilada Casserole Bake
But that's enough gushing about how much I love Swanson® Chicken Broth and Campbell's® Condensed Cream of Chicken Soup.
Let's get to the easy yumminess that is sure to bring the family together to the table this holiday season. And all with only 8 simple ingredients!
Yield:
Green Chile Enchilada Casserole
Green Chile Chicken Enchilada Casserole - w/ only 8 ingredients in this easy Mexican dish the entire family loves. Doubles as a great Freezer Meal.
Ingredients
1 quart home canned Chicken (or 3 regular 12.5 oz canned chicken breast)
4 oz can chopped Green Chilies
4 Tablespoons dried Minced Onion (or one fresh onion minced)
1 can Campbell's® Condensed Cream of Chicken Soup
1 1/2 cups Swanson® Chicken Broth
12-18 corn tortillas
4 cups shredded cheese
1/2 panko bread crumbs (optional)
Instructions
In a large skillet, combine chicken, onion, soup, and chicken broth.
Heat over medium heat 3-5 minutes stirring occasionally until warm (do not boil)
Set chicken mixture aside, but keep warm.
Fry corn tortilla shells (or heat/cook on skillet)
Cut tortillas in half.
Line bottom of a 9 X 13 Baking pan with 1/3 of the tortilla pieces (try not to overlap)
Cover with 1/3 of the heated chicken mixture
Sprinkle 1/3 of the cheese.
Make 2 more layers finishing off with cheese sprinkled on top.
Sprinkle panko bread crumbs on top for crispy top (optional)
Bake at 350 degrees for 20-25 minutes.
Let stand 5 minutes before serving.
Notes
panko breadcrumbs can be eliminated if you don't like a crispy top.
If you are a cheese lover, go ahead and use more cheese.
While I typically cut this into 12 servings, but be aware when planning how much you'll need, know that many people often want seconds of this dish.
This can also be made ahead of time, cover before cooking and store as a freezer meal. Remove from Freezer in the morning and thaw in the fridge. Cook, as usual, that evening.
This is a great recipe to bring the kids with you to the kitchen. It's simple enough that they can help toss it together and create special time together as they learn to cook by your side.
I prefer to use home canned chicken in this recipe. I think it just has a better flavor. Or maybe that's just me feeling proud of my accomplishments that I canned my own chicken (which is also really easy to do.)
I also use farm fresh chicken for canning which really optimizes the flavor.
I buy my meat in bulk through a community Co-op called The Savory Butcher. I'm able to get superior quality products at a better price than our local grocery stores can offer.
The meat arrives FRESH from the Farm, never frozen and the chicken is already hand trimmed! So it's immediately ready to be used, canned or frozen!
If you want High Quality Chicken, Ground Hamburger and Bacon – for less than you pay at the store, you need Savory Butcher!
They just launched from beta testing, and are working on adding new states/cities to their delivery routes. If you want to help get Savory Butcher to your area quickly, Join the community leader program in your area. This will help them see where the service is wanted and they can get to you faster.
SIGN ME UP TO SAVORY BUTCHER NOW!
But if you don't can your own chicken, you can also create this with 3 regular sized 12.5 oz cans of canned chicken. Make sure to pick chicken packed in water without a lot of additives.
Depending on the size of the baking dish you use, and the size of the corn tortillas you will need between 12-18 corn tortillas. My mom's original recipe says to fry the corn tortillas in oil. But if you want a better for your option, I have you covered.
I spritz my electric griddle with a very small amount of cooking spray and cook the corn tortillas for a few minutes on each side. Don't cook until crispy, just slightly before that stage. So they are each warm, but still pliable.
As you are cooking up the corn tortillas, you can cook up the green chile chicken enchilada filling.
In a deep fry pan or saucepan, combine the minced onion, canned chicken, green chiles, Swanson® Chicken Broth and Campbell's® Condensed Cream of Chicken Soup.
Cook on medium heat for 3-5 minutes until mixture is warm and creamy. Stir occasionally and break up the chicken chunks into smaller pieces. But be sure to not let the mixture boil.
Set the mixture aside, but keep it warm. Once you are finished cooking the corn tortillas, cut them in half. Then line the bottom of your casserole dish. Try not to overlap the tortillas.
My Mom always used a 9 X 13 baking dish, and so did I. But if you want more than 3 layers to your enchilada casserole, you can use a smaller pan and simply make more layers.
After you lay your tortillas down, add 1/3 of the chicken mixture and spread it around.
Sprinkle on 1/3 of the shredded cheese.
Add another layer of corn tortillas. Repeat the layering 2 more times, finishing off with a layer of cheese on top.
My mom's original recipe then moves onto baking. But I prefer a nice crunchy top to my casseroles. So I sprinkled 1/2 cup panko breadcrumbs on top. But this is completely optional.
If you want to make this ahead of time for an easy freezer meal, you can now cover it and pack it away in the freezer for a night when you have company over and need a simple holiday dinner.
When you want to cook it up, simply remove it from the freezer that morning and thaw in the fridge. Then bake as usual. If it's not fully thawed, you will need to increase the baking time.
If you are baking the green chile chicken enchilada casserole right away, bake it at 350 degrees for 20-25 minutes until it is thoroughly warm and the cheese is melted.
Allow it to rest for 5 minutes before serving.
I cut it up into 12 servings and it feeds our family of 6 (2 adults, and 4 kids ranging 2-13 years old) rather well with leftovers. So it is perfect for when we have company over.
But if you have more adults or bottomless pit teenagers, you might want to consider making two green chile chicken casseroles to feed the hungry horde.
Serve it up with your favorite Mexican side dishes. I personally prefer to serve mine up on a bed of shredded lettuce, with black olives, a dollop of sour cream on top and garnished with chopped chives.
The husband personally loves a side of refried beans with his Green Chile Chicken Enchilada Casserole.
But really, you can pair this Green Chile Chicken Enchilada Casserole with whatever you want to round out your family dinner.
Find more amazing Campbell's® Cream Soups and Swanson® Broth holiday recipes HERE!
Also be sociable with these amazing ingredients on Facebook, Twitter, Instagram, and Pinterest!
Now you can spend less time slaving away in the kitchen, and more time with your family during this holiday season. And still, serve up the best Holiday comfort food to keep your family and holiday guests happy!
If you enjoy this Green Chile Chicken Enchilada Casserole, be sure to pin it!