These Simple DIY Breakfast Bar Ideas have been compensated by Collective Bias, Inc. and its advertiser. All opinions are mine alone. #GPHolidayAtHome #CollectiveBias
The holidays are coming up quick. And that means visiting house guests! Are you prepared?
If your family is anything like mine, you need something to make mornings easier. Not everyone gets up at the same time when we have family visiting. So how do you manage the chore of Breakfast?
Since everyone wakes up at different times over the holidays, it's hard to have a planned breakfast altogether. That is unless we want to wait until 11 am.
Uhm..no thanks.
There is just no way to have a traditional hot breakfast for everyone when you are all on different schedules. Not unless you want to be stuck cooking a fresh breakfast for each guest individually as they awake. That means hanging out in the kitchen anywhere from 6 am until 11:30 am when the last person arrives for breakfast.
That's not my idea of fun over the holidays, or when we have company visiting. I want to be out socializing with them. Not stuck constantly cooking up something for the stragglers.
That is where this simple Breakfast Bar Idea comes into play. Use it for Breakfast Bar Party Ideas with your girlfriends, or a simple Breakfast Buffet for visiting guests. You can set this up the night before, and then each guest can enjoy a delicious breakfast at their ease when they wake up.
And you won't have to be a slave in the kitchen!
These Breakfast Bar Ideas make it simple for each person to serve themselves based on what they desire. And best of all, thanks to Dixie® Paper Plates, Mardi Gras® Napkins, and Brawny® Paper Towels, there is minimal clean up afterward! Because who really wants to be washing dishes all afternoon either?
To make it simple, simply click the Image below and you can purchase the essentials for every morning you have guests visiting!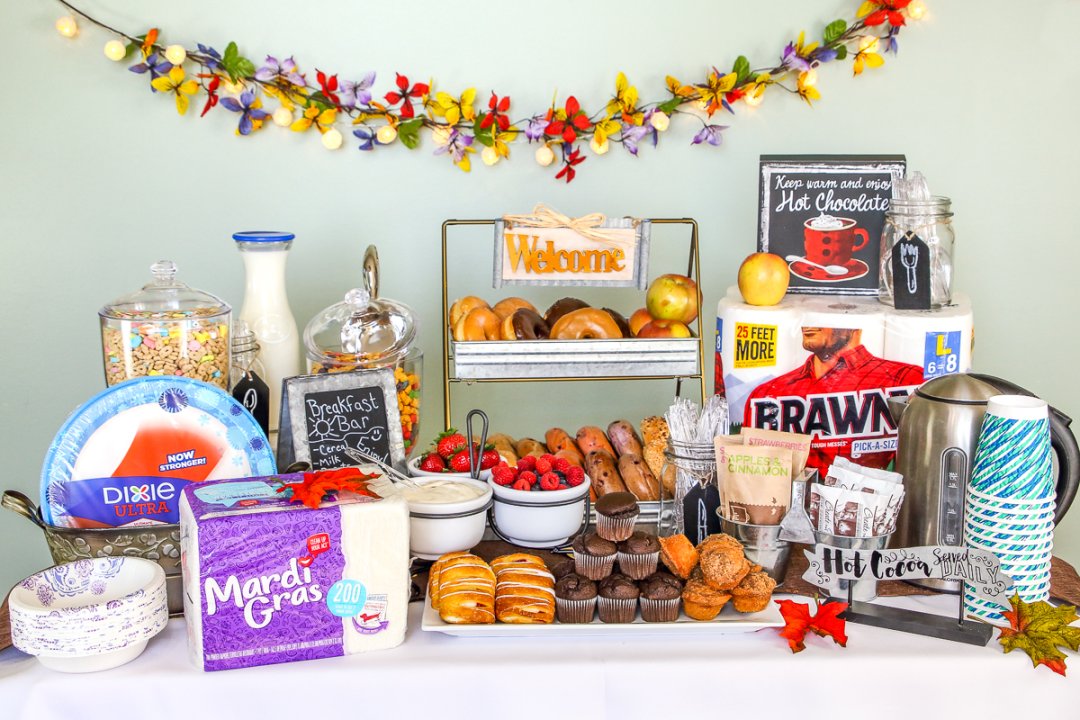 Essentials for any Breakfast Bar Ideas
When it comes to preparing for the holidays, have you ever considered shopping at Dollar General? If not, you should! There are some amazing saving offers from now until December 23, 2017! And when you are feeding company, you can use all the savings you can get, am I right?
So before your company arrives, stock up with these awesome Georgia-Pacific essential products at Dollar General, to make your dollar go further! Simply buy 3 Participating Products and Save $3!
(Savings Valid on Angel Soft® 12 Family / 12 Big Lavender, Sparkle® 6 Roll, all QNUSS 9 Mega and QNUP/QNUSS 12DR, Dixie® Everyday 9in 86 ct, Dixie Ultra® 10in 44ct, Brawny 6 Large Roll, Mardi Gras 200 ct)
This amazing savings offer only lasts from 11/20/17 through 12/23/17! So be sure to visit your local Dollar General and stock up before the shelves are bare!
We are always having family visit us, or we invite close friends over for dinner and games at least once a month. So I am always stocking up on Dixie 10″ Ultra® Paper Plates. It is a lifesaver when it comes to clean up!
The Dixie Ultra® paper plates can hold up to 2LB of food, so you can replace your real plates and not worry about the plate collapsing under the weight of the food!
And we love the Brawny select-a-size paper towels. I personally love being able to select the exact size I need to wipe up spills from the toddlers.
No holiday gathering should be without Brawny Paper Towels! It's not if, but WHEN messes happen with kids around.
And to make your guests smile, include these fun Mardi Gras Napkins. Forget the boring white. The Mardi Gras Napkins have fun prints and each napkin is different! They are bound to bring a smile! Not to mention great conversation starters!
While you are at Dollar General take advantage of all the other great savings, and stock up on the pantry items as well! They have a great variety of breakfast items you can use for your Breakfast Bar Party.
And make sure to use the Dollar General App for even more savings. You can get it on IOS or Android Devices. It has several digital coupons. You simply save the coupons to your account and then at checkout you input the phone number associated with your account. The coupons are automatically loaded, no clipping required!
I saved over $5 in addition to the regular sales because I remembered my Digital Coupons on the Dollar General App!
Hostess Hack -Brunch Buffet w/ Breakfast Bar Ideas
Now with our supplies in stock, it's time to set up the Breakfast Bar Table. Most of this you can set up the night before. After you lay out the pastries, bagels, donuts, etc, simply cover with a plastic wrap to keep them from drying out.
Keep the yogurt and milk in the fridge until morning then set them out. You can even place the milk and yogurt into a bucket of ice to help keep it cold throughout the morning.
Everything else you can place the night before and it will be ready for the morning.
I found this adorable WELCOME sign in the holiday section at Dollar General and loved it so much, that I decided to make our entire Breakfast Bar Party in the same style. So I pulled out my galvanized tiered tray and started working from there.
Boxes of cereal take up a lot of space on a table. Instead, pour the cereal into apothecary jars with lids. This helps keep them fresh and takes up a lot less space. And your guests can still see what kind of cereal you have.
My kids absolutely loved the cereal layout! They thought it was so fancy, that they felt really special. And now you don't have big boxes that easily tip over and spill everywhere.
Include a simple scoop for easy self-service.
You can use various white cake stands to help add some height to your Breakfast Bar Party table.
Be sure to place the milk near the cereal to make maneuvering around the table with other guests easier.
Make it simple for the company to grab their own Dixie Paper Plate. I put them in a galvanized basket with the Mardi Gras Napkins.
This helped to save space and makes it simple to pick up just one plate and napkin.
Every Breakfast needs silverware, so make it fun and simple at the same time. We placed our silverware into mason jars with a cute chalkboard tag. Simply draw a picture of the utensil that is in the jar. Place them on the table next to the items that require a spoon or knife or fork.
Usually, everyone likes yogurt. But I personally love to use a nice greek yogurt as a fruit dip. So portion out the yogurt and fresh berries/fruit into serving bowls.
Fill up your galvanized tray with the biggest pastries. I filled the bottom with a variety of bagels that my family loves.
Then fill the top with the donuts and add in some apples, because inevitably someone will want an apple. If not with breakfast, they will eat it on the go later that day.
Keep your packets of oatmeal and hot cocoa organized by putting them in a simple galvanized bucket.
Don't forget to include simple disposable hot cocoa cups with lids.
To make it easy, I also include a kettle of hot water. In Germany, we called them a Water Cooker. But I think here in the USA they are called an electric tea kettle? It has a simple base that plugs in, and it can cook a full kettle of water to boiling in under 5 minutes.
This way there is always plenty of hot water for whoever wants to cook up some fresh oatmeal or hot cocoa.
And make sure you have a roll of Brawny paper towels close. Because there will inevitably be some spills. Especially if you have kids! So keep that roll close at hand!
Use a simple platter for any additional small pastries you happen to have.
Put the bigger items in the back of the table and smaller items upfront to make it simple to reach and grab.
Lastly, decorate!
Like I said, I just loved this Welcome sign that I found at Dollar General. So I taped it to the top of the galvanized tiered tray as the centerpiece. Because I want my company to feel welcome.
Include a simple sign so your guests know what you have to offer. Just like those bistro signs in Europe. Your guests can easily glance and decide what they want to enjoy.
I am crazy for hot cocoa in the cold months. Especially Belgium Hot Chocolate! So I have plenty of these fun Hot Cocoa Bistro signs.
I want my company to feel welcome to enjoy hot cocoa whenever they want. It's not just for breakfast. So add a few fun hot cocoa signs to invite them to enjoy all day long.
Since we are in the Autumn/harvest season, I added some fun colored leaves to the tabletop.
And a garland of butterfly leaves.
I also wrapped a fun string of lights around the garland before I strung it above the table.
If your company arrives for Christmas, you can have a lot of fun with the winter garlands hanging above the Breakfast Bar Party table. I saw several beautiful choices at Dollar General in the Holiday decor aisle for a fraction of the price they cost at the craft stores.
Now your Breakfast Bar Buffet is all set! Watch your guests be in awe at the amazing spread of choices for breakfast. You can easily include food for everyone.
More Breakfast Bar Party Food Ideas
Our Breakfast Bar Party layout is catered to please my kids, and to be a little like a traditional Continental Breakfast you'd find at a hotel. But that might not please all of your company. So I have even more food ideas for your Breakfast Buffet that you can include.
Depending on who is coming to visit I will change out the food choices.
More food choices you can include in your Breakfast Bar Party table include
Frozen Waffle Bar w/ various toppings & toaster to warm
Freezer pancakes & Toaster to warm them
Breakfast Casseroles
Breakfast Burrito Bar with toppings in individual bowls so they can create their own.
Crispy bacon on a stick
Mini Frittatas
Mini Quiches
We also have some family members who have type 2 diabetes, others that don't eat flour or sugar, and others that only eat paleo-friendly food. So I also have some Breakfast Bar Ideas for a more conscientious eater. For these guests you can also include:
Hard-boiled Eggs
Several more varieties of fruit such as bananas, grapes, cantaloupe, etc
Cheese slices & nitrate free sliced meats
natural nuts
Triscuit Crackers – no sugar or flour
Shredded wheat type cereal, again no flour or sugar
Steel Cut Oats individual packets
Cottage Cheese
Peanut Butter (or other nut butter) w/ fruit slices
Cooked Quinoa flakes
Next time you have company visiting, make your mornings simple and delightful for everyone. Create a simple Breakfast Bar Party using our Breakfast Bar Ideas. Customize to your own family's food preferences.
And be sure to stock up on all your essentials at Dollar General to make your dollar stretch further! See all the fun Holiday Deals at Dollar General HERE!
Find more great Holiday Hosting Ideas here!

What are your best Breakfast Bar Ideas for a fun DIY Breakfast Bar Party?
Be sure to PIN these Breakfast Bar Ideas for inspiration later!


↓↓