This shop has been compensated by Collective Bias, Inc. and its advertiser. All opinions are mine alone. #PlayWithPlaymobil #CollectiveBias
Do you know a parent that wants to encourage their child's development? Discover the benefits of creative play therapy toys and how to use child-centered play therapy in your home.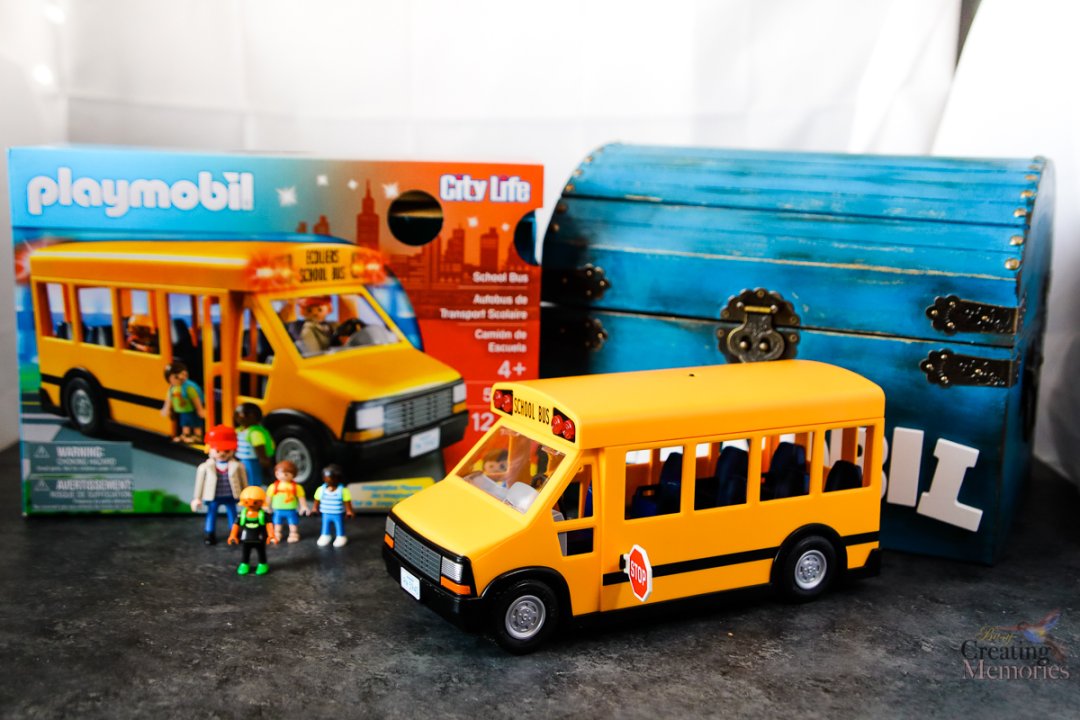 Want to also get the PLAYMOBIL School Bus? Hover over the photo above to click through to Walmart to shop!
A few months ago, my girls discovered my old toys in storage. The ones that I used to play with as a kid. These are toys that were passed down to me from my older siblings.
Toys that I cherished so much, I keep them all these years so that my own kids could play with them.
Y'all! Many of these toys are from the 1970's!
Do you want to know the girls' favorite toys out of that box?
My old PLAYMOBIL playground playset! Not even kidding. The two girls fight over who gets to play with this playset ALL THE TIME.
And wouldn't you know it, even my teenage boys still want to play with the PLAYMOBIL toys.
Yes, you read that right. My teenaged son keeps asking me for the PLAYMOBIL Pirate Ship sets! No JOKE! There is no age limit on these toys!
Uhm, I think it's time we got more PLAYMOBIL toys, don't you?
What I love about PLAYMOBIL is that they are high-quality toys that have such attention to detail, and are made to last.
Remember my 1970's PLAYMOBIL playset? Talk about a toy to last through the ages!
Building Confidence with Creative Play Therapy Toys
While I was at Walmart for our regular shopping trip, I stopped in the toy section to get some ideas for the girls' birthdays coming up in a couple weeks.
PLAYMOBIL toys may have been around for ages, but they are brand new to Walmart. So I was excited to see them on the shelves!
And it gave me the perfect birthday gift idea for my girls.
My kids like a combination of homemade and toy gifts, so I decided to make a fun treasure chest box to store my treasured PLAYMOBIL playset. Plus include new playsets for each girl on their birthday.
We are adding the PLAYMOBIL School Bus playset and the PLAYMOBIL Large City Zoo. They pair perfectly with a PLAYMOBIL playground playset.
This way, we have a designated "safe spot" to store the PLAYMOBIL toys so pieces won't get lost. Plus it sure makes carrying them around the house much easier!
This Wooden Treasure Chest box is so popular with the kids, I think I may need to make another for my teenaged son.
He keeps begging for the PLAYMOBIL Pirate Ships (…cause it's a treasure box. A Treasure box to store his Pirate Booty! Ha)!
Plus, having more PLAYMOBIL playsets means the kids have more opportunity for creative play therapy.
Get the KIDS WOODEN TREASURE CHEST BOX TUTORIAL HERE
Creative Play Therapy for Special Needs
Years ago when Miss Jade first started therapy for her special needs, they introduced us to creative play therapy.
What is Creative Play Therapy?
Play Therapy is the therapeutic use of play and creative arts. It is a form of psychotherapy/ counselling for children, teenagers and adults that facilitates expression through creative media as well as talk.
That is the big formal definition. In layman's terms, it's basically using toys or other mediums to engage the child in expressing feelings, ideas, and words.
There are all kinds of ways that creative play therapy can be used. It can be used to help a child cope and overcome mental, physical, verbal, and auditory struggles.
When we first started creative play therapy, Miss Jade hardly talked at all. She said less than 10 words.
But her therapists saw that she had a very creative mind. And they used her talent for creativity to really help her conquer her special needs obstacles.
Amazing Creative Play Therapy Toys
If you want to engage your child in creative play therapy, you don't have to go out and buy a ton of specialized items. They don't have to be "medical" or "professional" grade.
And you don't have to be a professional therapist to use creative play therapy with your kids.
The best creative play therapy toys are the toys your individual child will engage with the most.
Toys that can be used to help your child with their specific development struggle.
For Miss Jade, she struggled with speech, fine motor skills, and dexterity. So the toys that worked best for her, required her to use her hands, work with movement, and encouraged her to talk.
Basically, we did a lot of roleplaying with toys.
One of Miss Jade's favorite toys at her therapists' office was the PLAYMOBIL toys. They were the perfect size for her little fingers to maneuver. Plus they required her to work on fine motor skills by combining the smaller pieces together.
Since the PLAYMOBIL imaginative play sets focus on iconic figures from a variety of worlds, both realistic and fantastical they are one of the best creative play therapy toys out there.
PLAYMOBIL toys get kids to focus on fine motor skills. But they also open a large canvas of creative opportunities with recreative lifestyle play such as
Playing house with the toys (mom, dad, kid, and baby dynamics)
Reenacting life around them with the toys (Mom taking kids to park, School bus taking kids on a field trip to the zoo, or the firetruck rushing to help put out a fire, etc)
Helping a child express situations when they are unable to use words
Roleplaying skills
and much more!
PLAYMOBIL play sets help to develop both cognitive, social and emotional skills, and are especially helpful toys for special needs kids.
When the child is playing with the toy, you can ask them simple questions like:
What color is the toys shirt?

What is the toy doing?

Does the toy have any special likes?

This is a Horse. What kind of food does a horse eat?

so on and so forth…..
Questions of this nature require the child to think, and then form dialog. It gets the child to talk. Creative play therapy helps to build their confidence because they aren't thinking about therapy, they are just playing. And that is when the magic happens.
Out of everything we ever tried, creative play therapy was the most successful to get Miss Jade to speak. She loved to play. And she loved to play with the little PLAYMOBIL people.
Fast Forward to, oh say about 7 years.
Miss Jade has made major leaps and bounds. She no longer requires attending individual occupational therapy outside of the resources her school offers her.
Now she talks ALL the time!
But she still has some communication barriers that we are still working with. So we continue using creative play therapy on our own at home.
And not only that, it's a great way for her to bond and play with her little sister.
Even though Miss Rose doesn't have any special needs, she also benefits from creative play therapy.
She is actually advanced for her age in cognitive speech and reasoning.
So, you don't have to be a special needs kid to really benefit from creative play therapy.
Check out all the amazing ways the PLAYMOBIL Toys spark creativity!
Looking for more Child Development or Special needs ideas?
Check out these fun Family Favorites!
Benefits of Weighted Blankets for Kids with Special Needs
Potty Training a Special Needs Child
How to say Bye Bye Binky, the easy way
Edible Apple Turkey sensory craft project
How to Teach Kids to Clean their Bedroom
Like our benefits of creative play therapy toys?
BE SURE TO PIN AND SHARE the benefits of creative play therapy toys WITH YOUR FRIENDS AND FAMILY!