Don't get left out this Halloween with a boring house! Get the secrets to creating a sensational, and extremely easy Spooky Halloween Mantel to impress!
Our Halloween Fireplace Mantel Ideas was sponsored by Lowe's as part of an Influencer Activation for Influence Central and all opinions expressed in my post are my own. Originally published Oct 20, 2017: these Haunted Halloween Fireplace Mantel ideas have been updated for your convenience.
Do you love Halloween as much as we do? One thing I really love is all the fun Halloween decorations. And boy Oh boy, do I ever have fun! Let's just say that our house is the most "lit" house on the street. Haha.
Normally when I decorate for Halloween, I tend to keep it on the cutsie side. But recently the husband has got me to move a little more over to the spooky side. Especially since our little Rose has an obsession with all the SCARY Halloween Decorations. Ya'll….she's been this way since she was TWO! And the scarier it is, the more she loves it!
So these Haunted Halloween Fireplace Mantel ideas are all based around pleasing her! With a more spooky approach, little Rose couldn't be happier.
Just watch this video for a fun haunted reveal! Then keep reading to discover how I put it all together.

I absolutely love the beautiful looks of a festive fireplace mantel for the holidays. But my struggle has been that everywhere I look, all fireplace mantel ideas feature a white mantle!
Now here is the problem, my mantel isn't white!
And there is no way I'm going to PAINT my mantel white!
Why Not?
Well because I have this gorgeous knotty pine mantel! It's one of the reasons we fell in love with our house in the first place – the knotty pine mantel, and the knotty pine cabinets in the kitchen and bathrooms. Photos just don't do it justice!
Would you paint that gorgeous natural wood white? I think not!
But it makes decorating a little more difficult when your mantel isn't white. You have to consider matching colors that would look good on a wood colored mantel.
Will the color combinations turn out to be too brown? Or will the various shades look dull and muted with each other? Will it look plain and old-fashioned because it's not the modern Pinterest perfect white mantel?
But I know with a little planning you can still have beautiful Halloween Mantel Decor. Since I couldn't find very many Halloween fireplace mantel decorating ideas out there for someone with any color besides a white mantel, I decided to create my own.
Hopefully, you will be able to take my Halloween Mantel Decorating Ideas and use them to help decorate your own fireplace mantel for Halloween.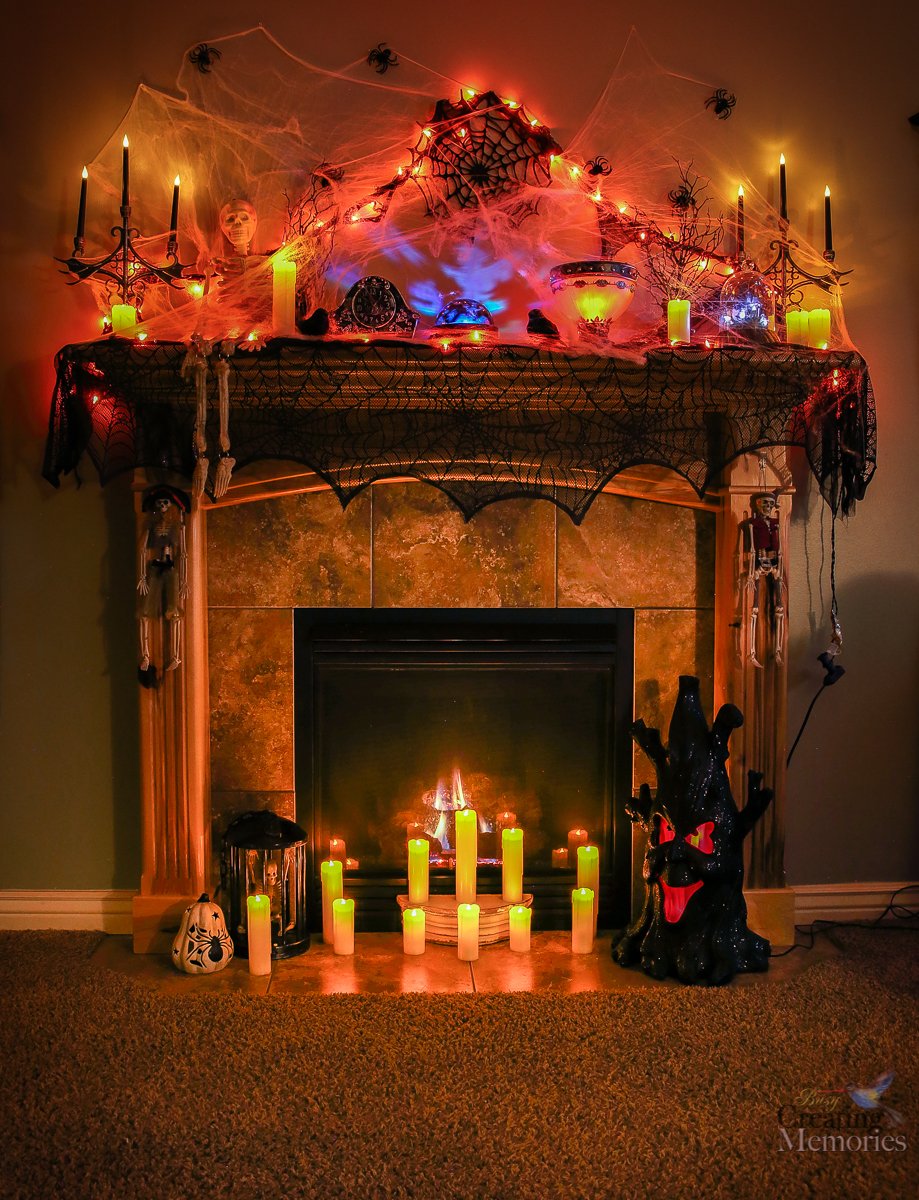 For you Pinterest friendly people with a White Mantel, these fireplace mantel ideas will still look great on your mantel too! So stick around and be inspired!
And before you leave, don't forget to Pin our Mantel ideas to help you plan your own Halloween fireplace mantel ideas!
Halloween fireplace mantel ideas for mantels of all colors.
The first step is to pick up your Halloween decorating supplies at Lowe's.
Every time we visit Lowe's, we always have to look at the Holiday decorations. My kids insist. And I'm not going to argue because I love looking through them to get ideas for decorating at home.
While we were there picking up new lightbulbs for our bathroom vanity lights, we also picked up an array of new Halloween decorations for the cornerstone of our fireplace mantel ideas.
Now let's start setting up a fun Halloween fireplace mantel!
Setting the Fireplace Mantel Ideas Foundation
When setting up for the holidays, you always want to start with a clean mantel. So clear everything off the mantel. Then dust thoroughly.
I began with attaching a simple black mantel scarf with Command clear adhesive hooks which you can also find at Lowe's.
Then I added some black cheesecloth to the top of the mantel to give it a dark mood. I used two black cheesecloth to cover my mantel, draping them softly off each end to blend with the mantel scarf.
I hung a string of orange lights, with a ripped black cheesecloth wrapped around, above the mantel in an inverted V shape going from the center, draping down to the sides of the mantel.
Fireplace Mantel Ideas for the Mantle Top
To make the decorating easier, start by adding the biggest items first. This will make placing items easier as you will be able to see where the mantel needs more or fewer decorations. And will be easier to keep the entire look balanced.
I added two candelabras, one on each end of the mantel.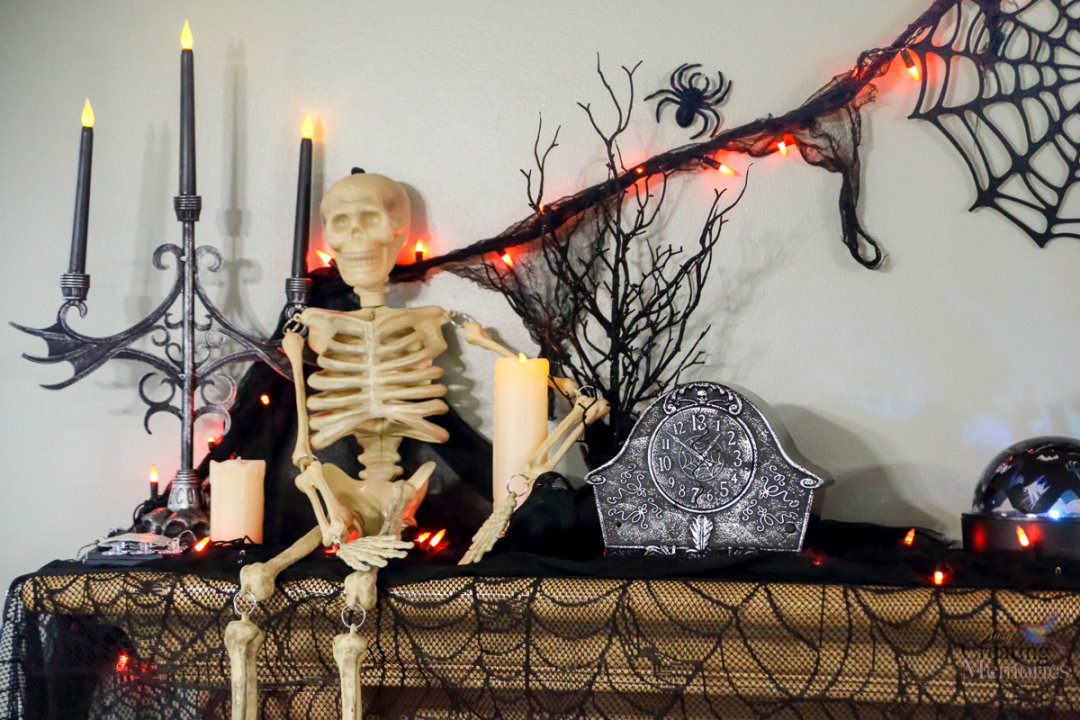 The skeleton was placed on the left of the mantel top.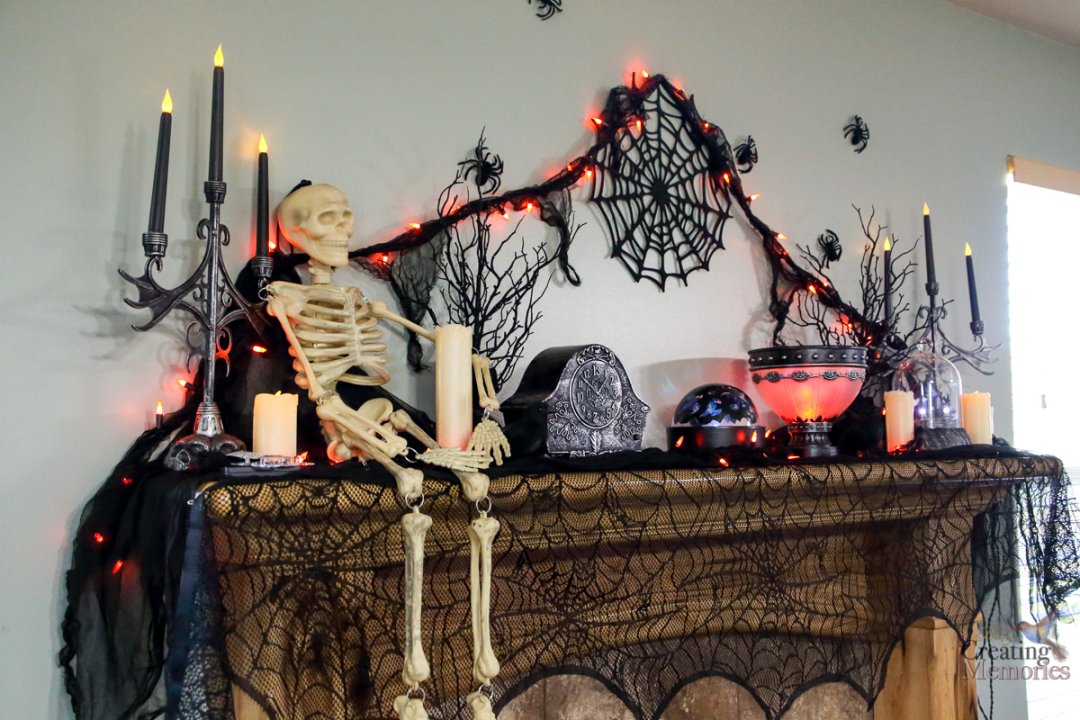 I wanted the tabletop projector tabletop projector to project the Halloween scenes onto the wall for a spooky lighting effect, so it was placed in the center.
By now the right side was feeling scarce so I added a beautiful light up bowl on the right. This bowl is awesome as it features multi-colored LED lights that cycle through the colors giving it a magic potion feel. It would be awesome to fill with candy for the Trick or Treaters or a little dry ice with water for witches' brew effect.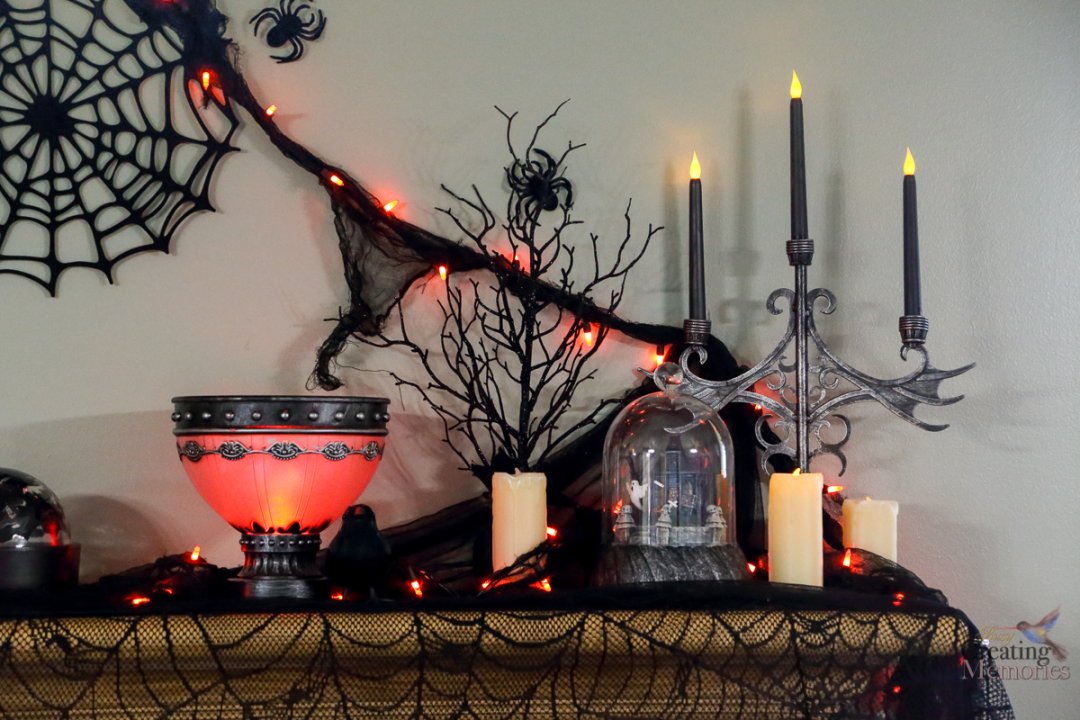 Then I added a haunted house dome on the right. I love this one as it is motion activated and plays haunting sounds and flashes white LED lights. You can also turn it off if you need quiet.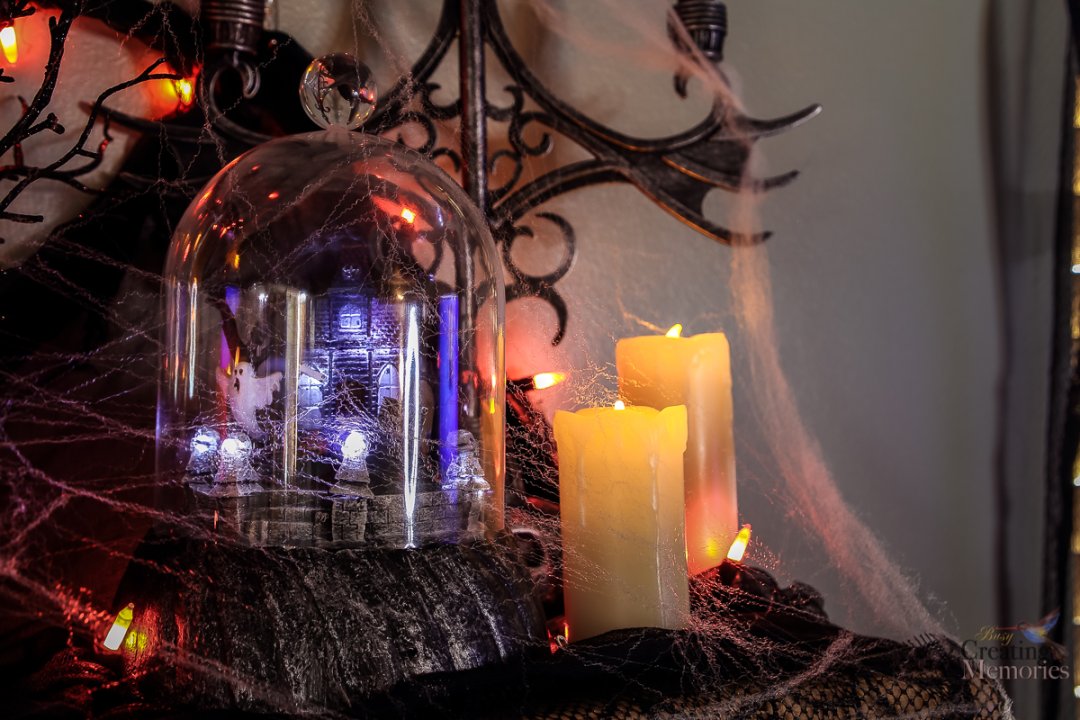 My toddler's favorite item was the last "big item" added to the top of the mantel. While we were looking at the decorations, she instantly fell in love with this spooky mantel clock.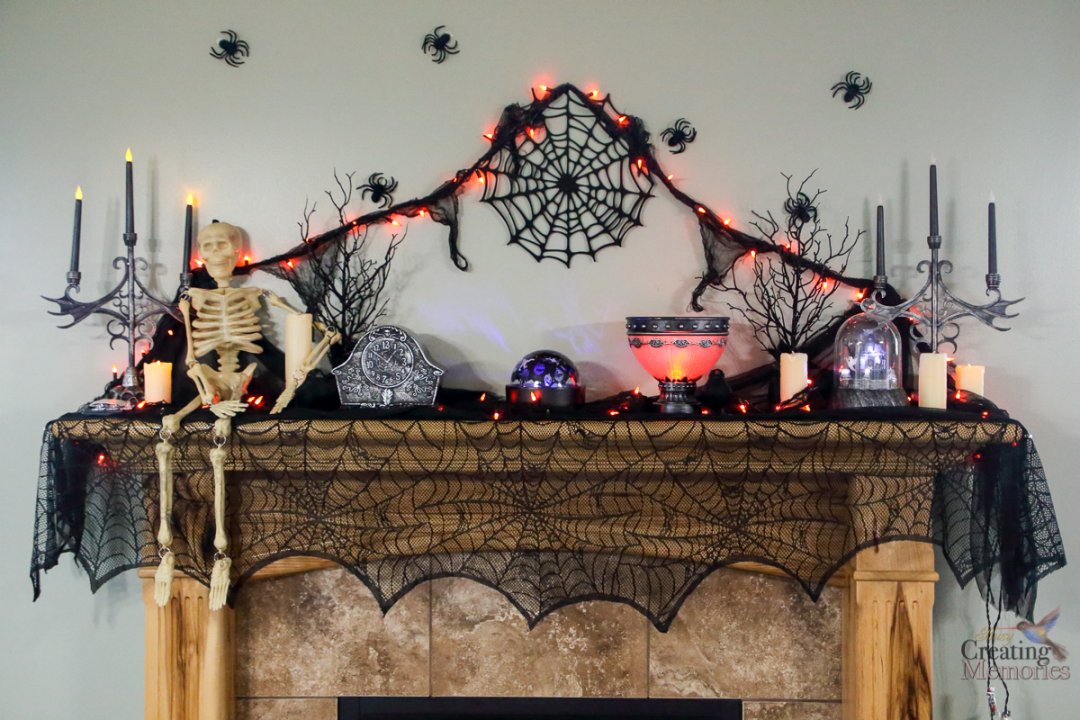 It is also motion activated and sounds like a clock ticking. Then the face of the clock pops open and a skull with multicolored LED lights pops out while sounding a haunted scream, then resets to do it all over again. She laughs her head off every time it goes off.
I then added two black "branchy trees" that I already had at home, one on each side for more height, and the spooky dead tree look. But you can use a similar pre-lit tree branch.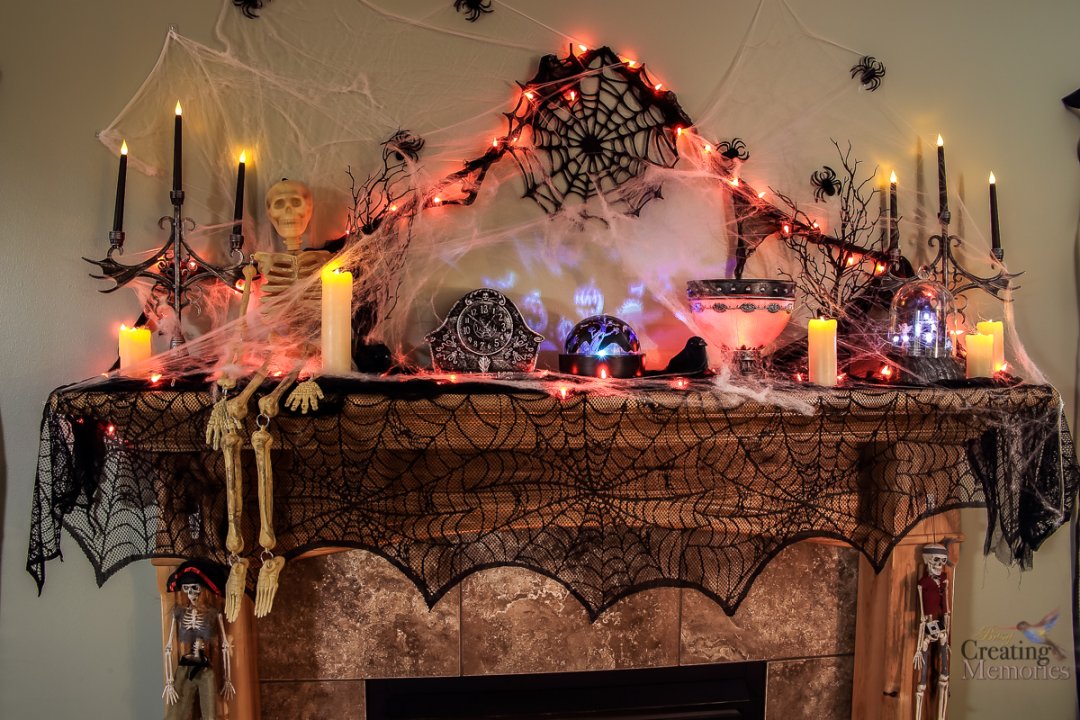 I also added a large black web to the center of the wall where the lights formed a peak. This could be made from thick felt cut into a web shape.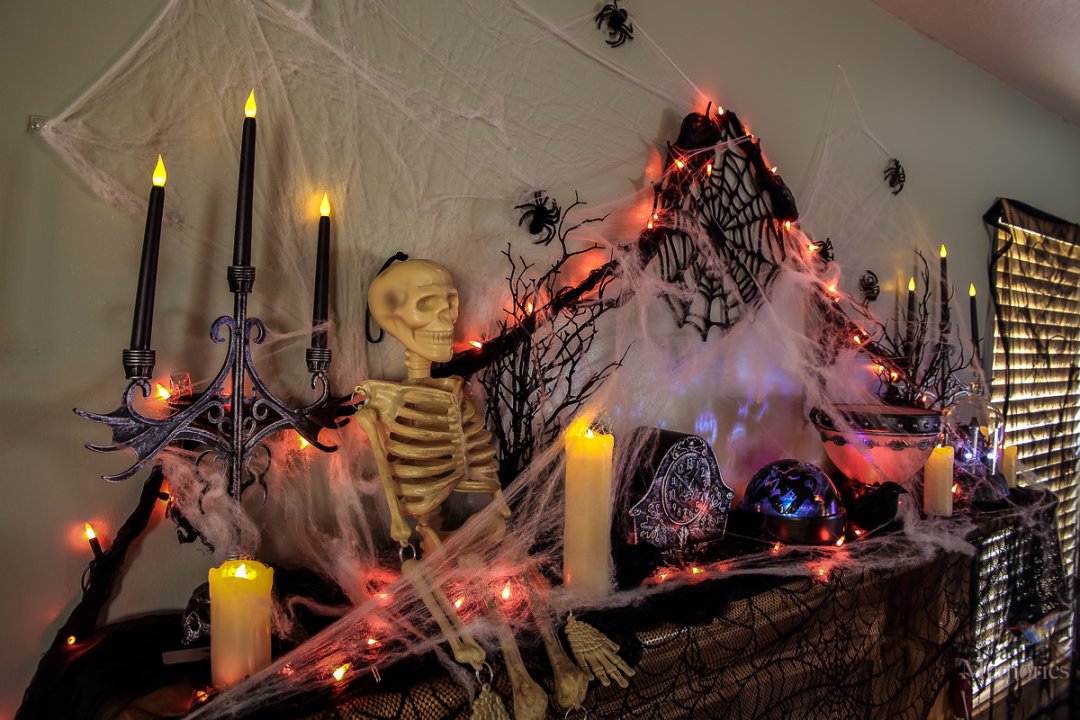 When the lights are off, the mantel top would disappear. So I weaved my last string of orange LED lights (also with ripped black cheesecloth wrapped around the lights) and weaved them around the items on the mantel. This helped to give the mantel top a nice glow.
Halloween Decoration Ideas for the base of the Mantel.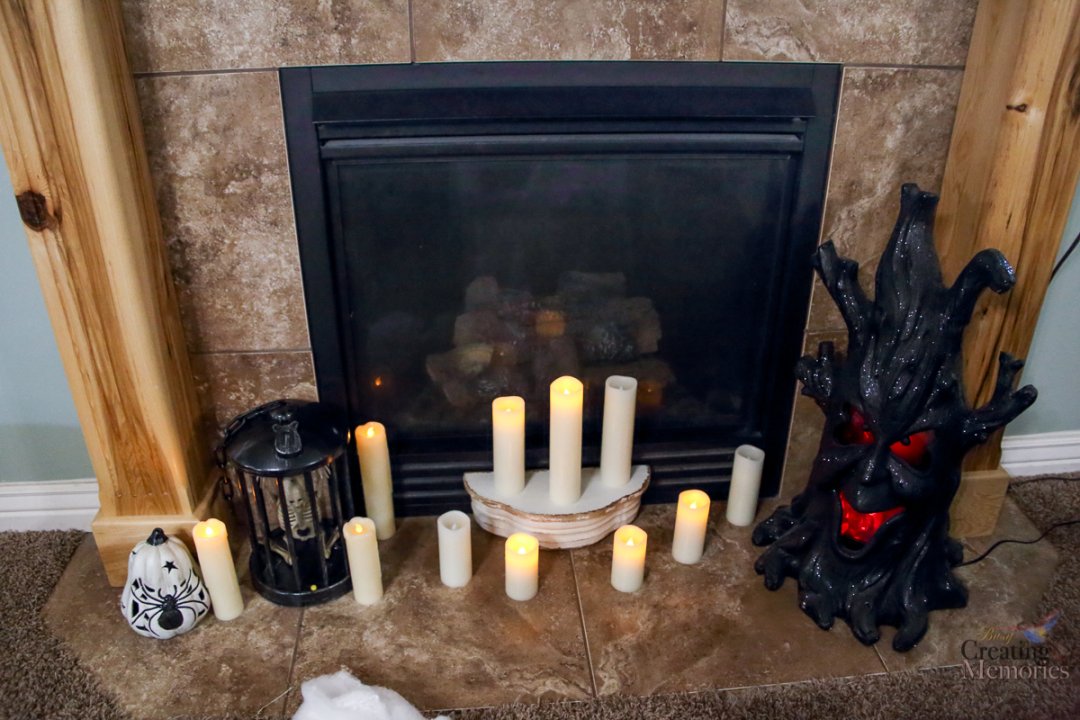 I placed my personal favorite, my spooky burning tree, on the floor on the right side. He doesn't make any sound, but he flickers a beautiful firelike red flame in his mouth and eyes. He is technically an outdoor decoration, but I just love how he looks next to my mantel.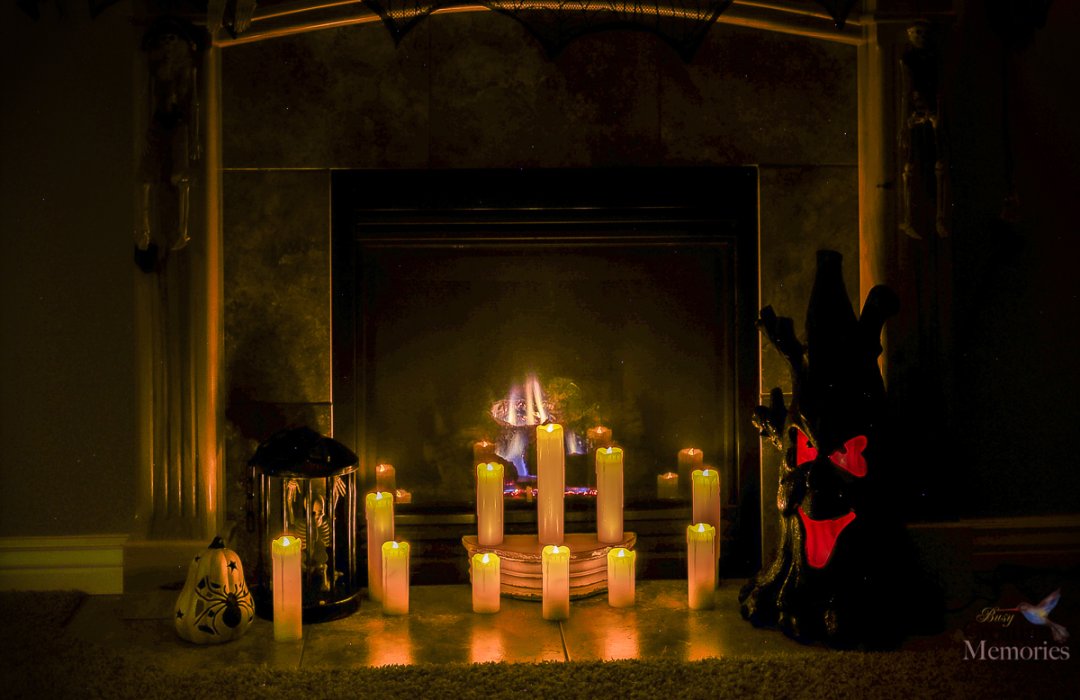 Then I added my toddler's 2nd favorite item, this caged animatronic skeleton with a ceramic pumpkin I had on hand.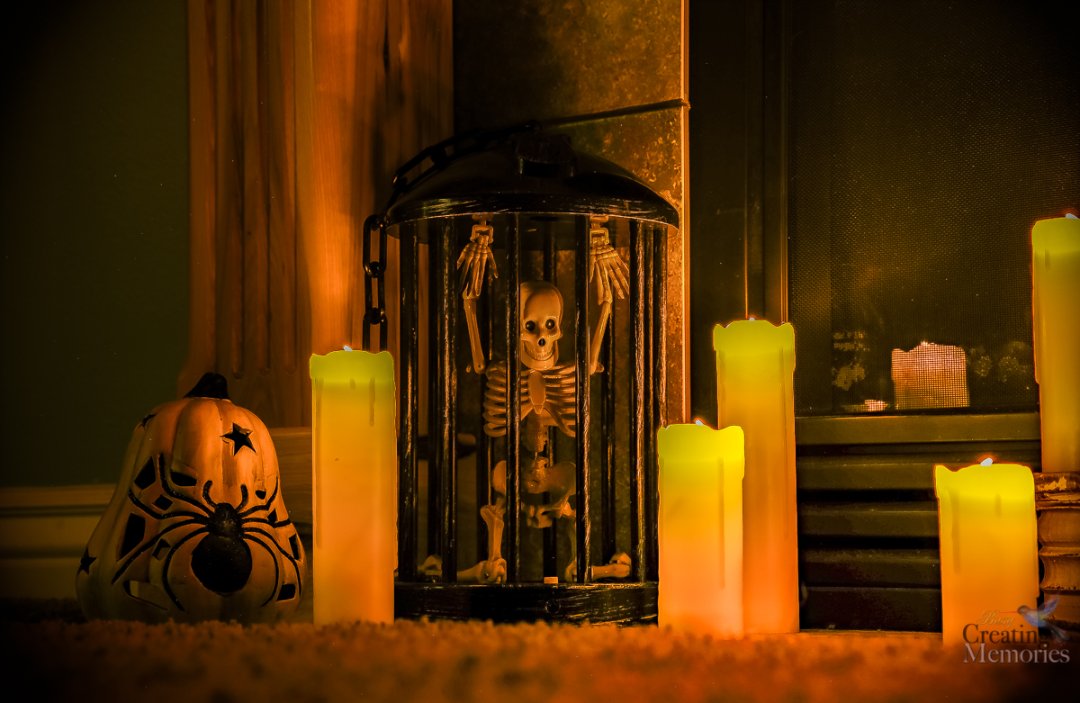 The Musical Skeleton is not motion activated. You simply push a button on the base of the cage and the skeleton actually SHAKES around inside as he screams for someone to let him out of the cage. Again, my daughter loves this! She laughs and laughs, and then pushes the button again!
It is the perfect piece to keep down where she can reach, so she can turn it on when she wants, instead of screaming for Mommy to come push the button again.
But if you don't want it down low, it also has a chain coming out of the top of the cage that you could use as a hanger to suspend the cage in the air.
Finishing Touches to our Fireplace Mantel Ideas
With all the main attraction items in place, I scattered several LED battery powered candles across both the fireplace mantel top and on the floor to give it that authentic Halloween glow.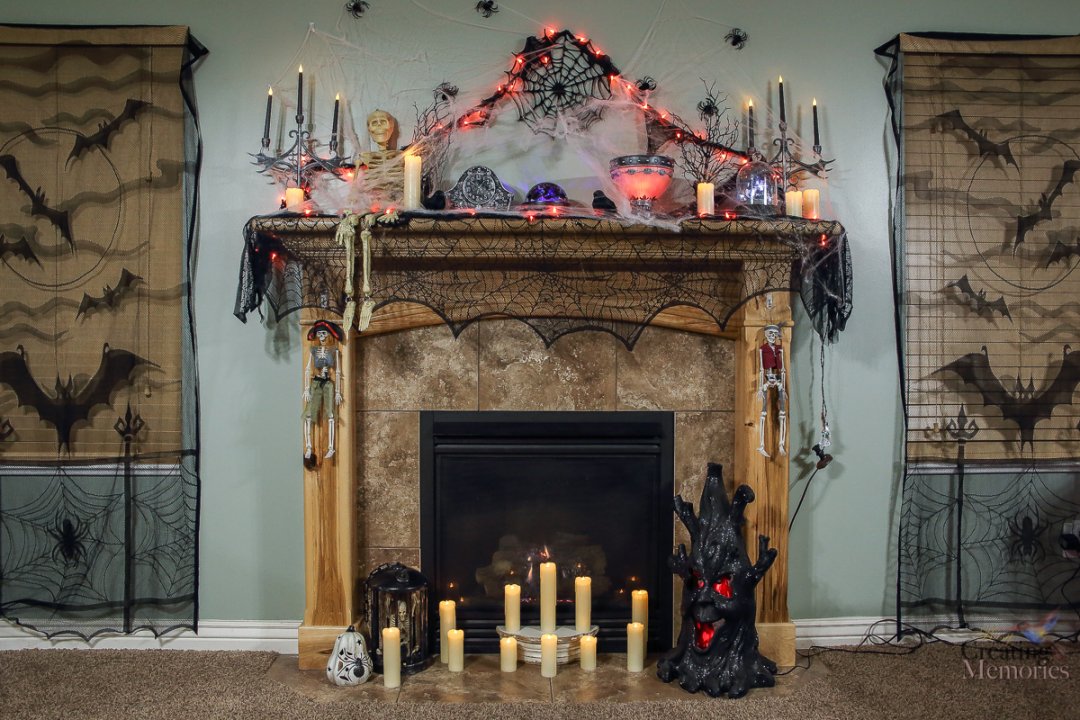 To help with height variations, I placed a small wall shelf on the floor in front of the fireplace. When lit, the candles really help to set the mood.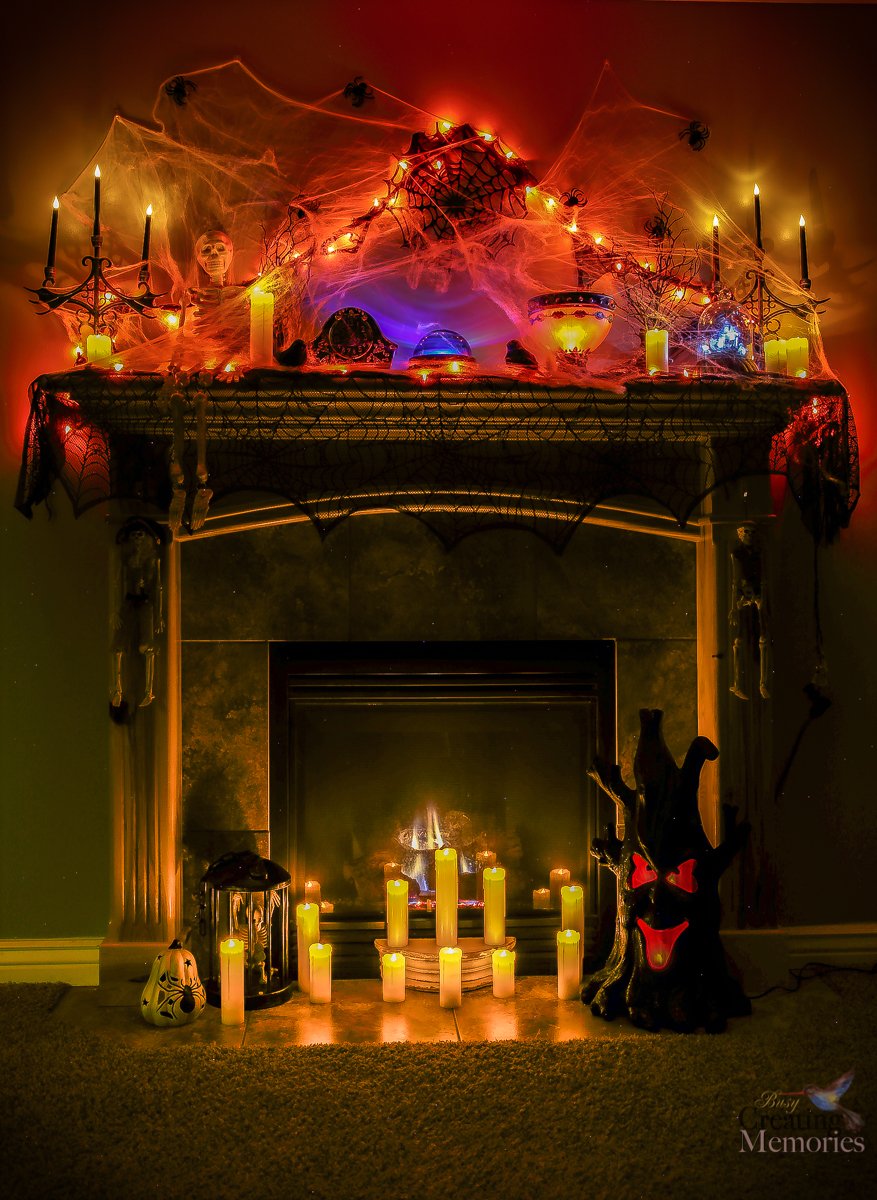 For the final touches, I used a few items from my Halloween box at home. I added 2 blackbirds to the top of the mantel, hung two small pirate skeletons – one on each fireplace mantel column, and taped black plastic spiders on the wall around the spiderweb.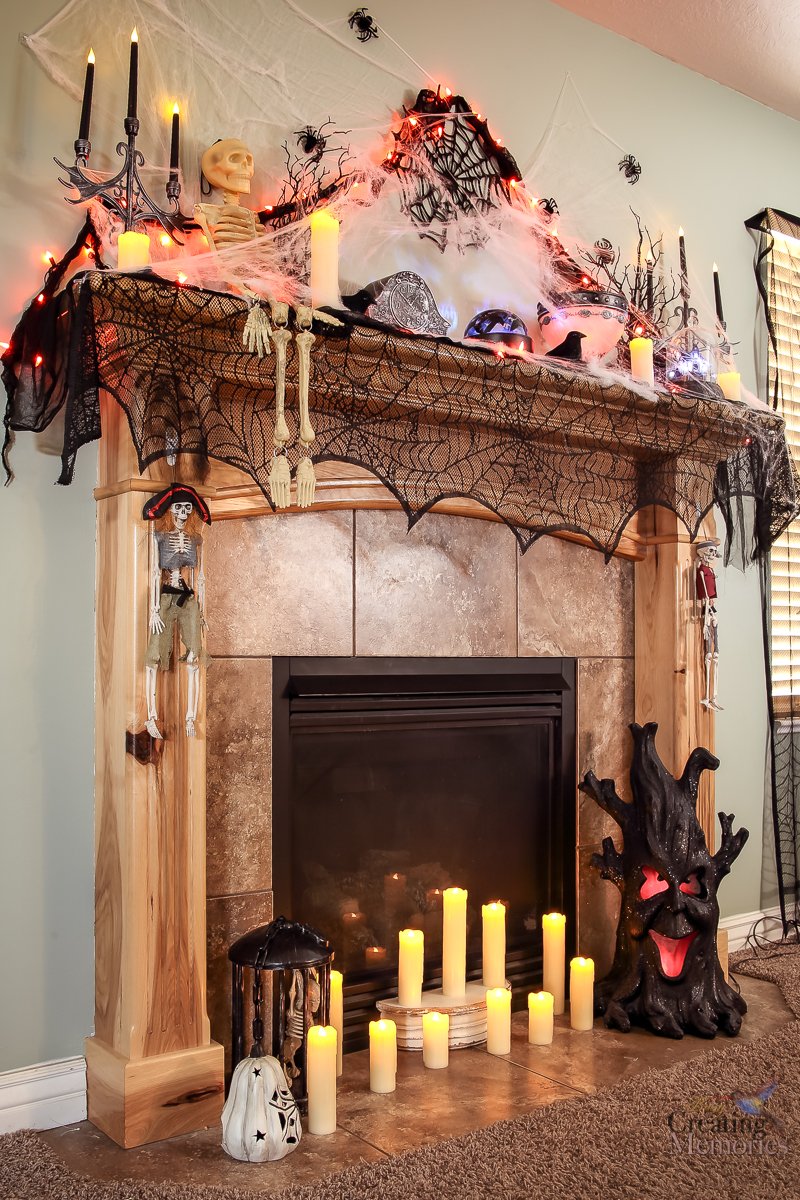 The last step is to add spider webs. Stretch out your spider web. The more you stretch it, the more authentic it will look. I only used HALF of the package. It really goes a long way. Rip off what you don't need so you aren't left with big bulges of the web.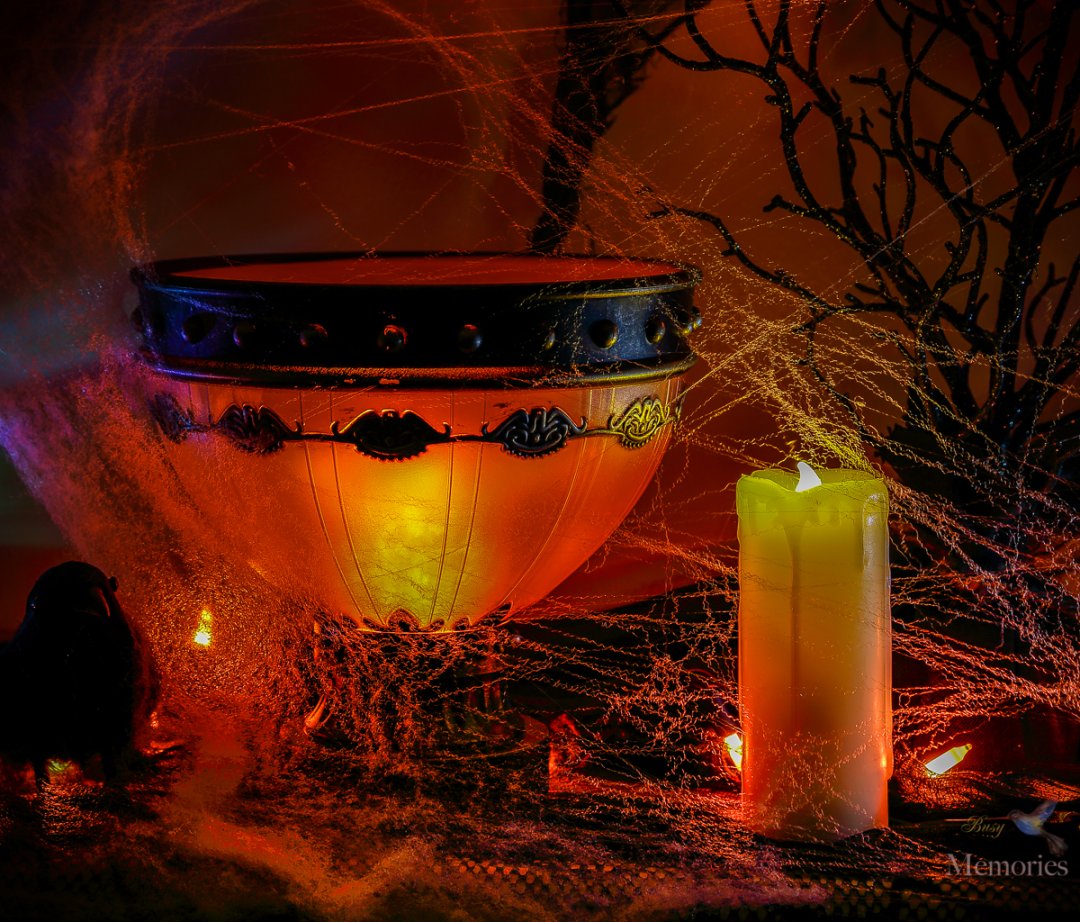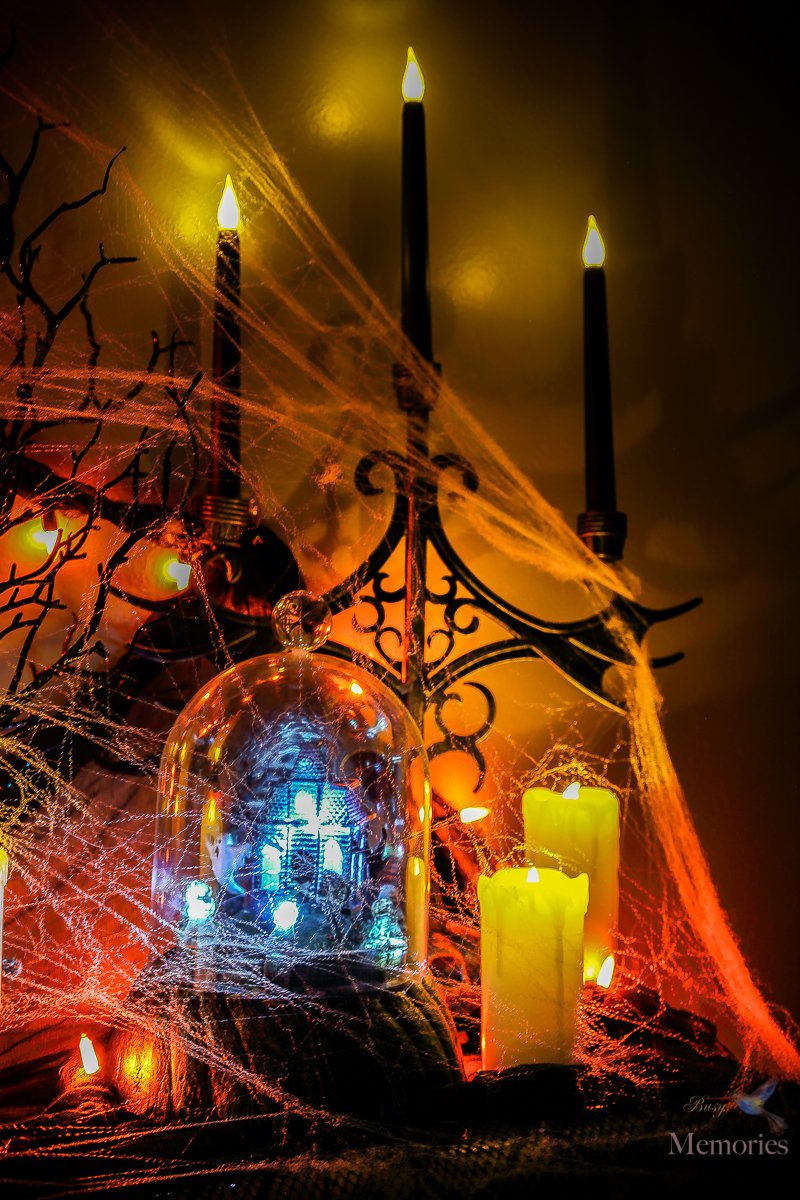 Stretch the web across the various decorations on the mantel so it looks like the spiders have formed a spiderweb among the items. Stretch it up onto the wall. You will need to use more Command clear adhesive hooks to attach the spiderweb to the wall.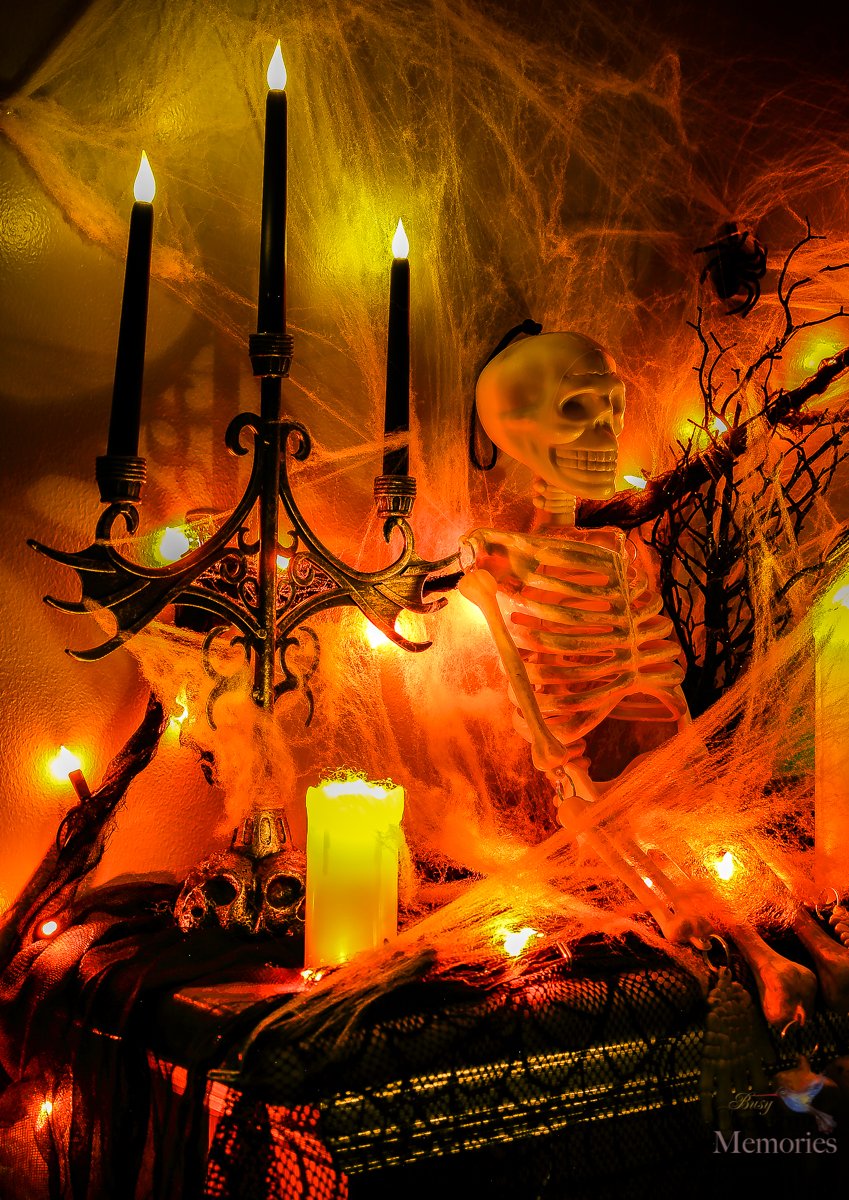 At last, we are done! Whew!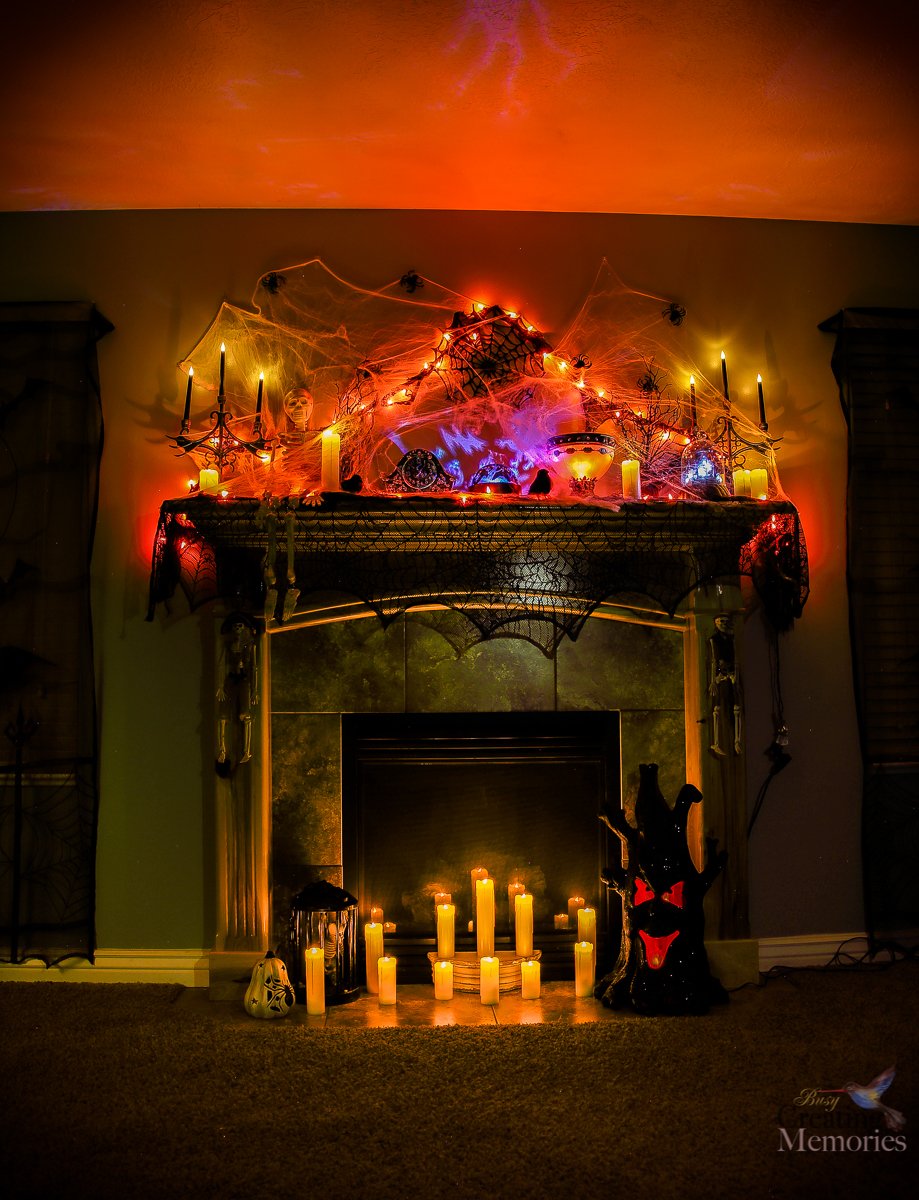 But let me tell you, it really isn't as complicated as it looks! I had everything except the spider web set up in about 30 minutes.
The darn spider web took quite a bit longer. It's a royal pain to work with spider webs because it takes so much effort to get it stretched out. And it sticks to EVERYTHING! But I do so love the effect it gives. So I couldn't skip it.
I love that this Halloween Mantel Decor looks great with the lights on….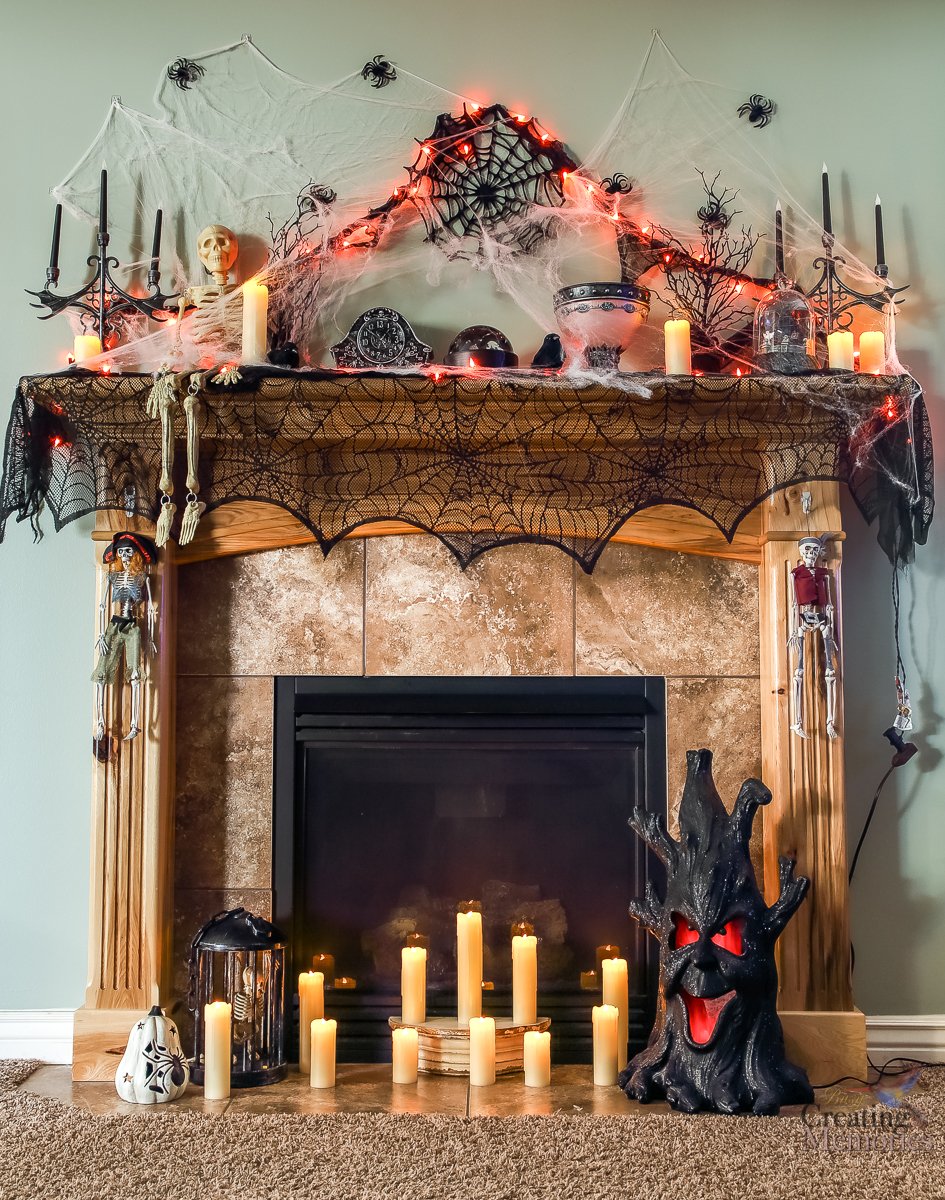 …And with the lights off!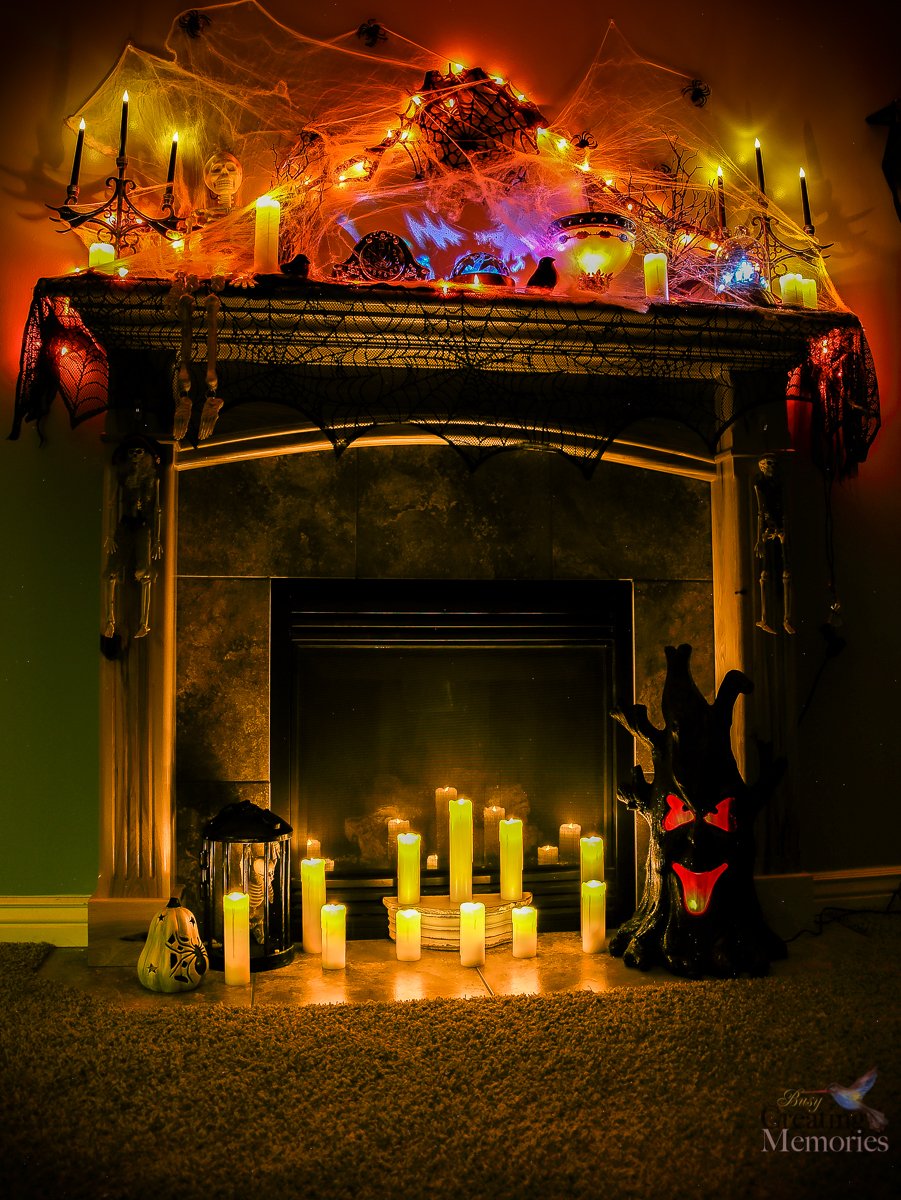 If you are a minimalist, you can easily tone down your look from my final Halloween Mantel. Or if you want the full shebang, now you know what it can look like!
And the best part, these decorations will look amazing no matter the color of your mantel!
Shop our Fireplace Mantel Ideas!
Want any of the items we used?
Items can be found at Lowes.com or instore at your local Lowe's.
Which item is your favorite from our Halloween Mantel Decorating Ideas?
Find more Fun Halloween Ideas HERE!
You may also like:
Don't forget to PIN our Halloween Fireplace Mantel Decorating Ideas! Use it for reference as you start setting up your own Halloween Fireplace Mantel Decor.
Pin it for Later!
⇓⇓