This post brought to you by ALPO® Brand Dog Food. All opinions are 100% mine.
You may have noticed I've been sharing quite a bit about our sweet little Odin as of lately. He has really come into his own personality and we are quite enjoying him in our little family. Because we love him so much we want to make sure he is always getting the proper nutrition he needs. We include dog treats, dry dog food, homemade dog food and treats, and canned dog food. We like to offer him a variety to keep him interested in eating wholesome foods.
Spice up Meal time with ALPO® Canned dog food
ALPO® wet dog food brings excitement during mealtime. It breaks up the monotony of the dry dog food and offers a bigger variety in flavors for our Odin. ALPO® wet canned dog food is 100% complete and balanced and has quality ingredients, like healthy protein sources, wholesome grains and accents of vegetables, and contributes to form a complete and balanced diet for each life stage. ALPO® dog food helps support a happy, healthy life, a shiny coat, strong bones and teeth and a mealtime tail that just can't stop wagging. As we all know, a healthy dog is a happy dog.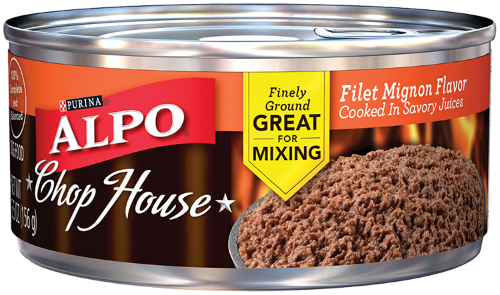 The last time I showcased Odin and his treats he was enjoying the larger 11 oz canned dog food from ALPO®. And he truly loved it. Still does. But I recently discover the ALPO® Chop House 5.5 oz cans. These are the perfect size for small dogs. But what I really noticed was the bigger variety of flavors these smaller cans offered. Like T-Bone Steak Flavored Cuts, Tender Cuts With Lamb, Filet Mignon Flavor, and Rotisserie Chicken Flavored Cuts. Well, at least our store doesn't carry all these variety of flavors in the larger cans.
I like to treat Odin with ALPO® Canned dog food to bring variety to his mealtime routine. So naturally I wanted to try the other flavors. The first thing that happened was the Cat immediately tried to take over the canned dog food. Good grief! Cat you have your own food!
Once I finally got our cat out of the way, I got Odin to give the new flavors a try. And let me tell you he was in love! He had the entire can gone in less than 4 minutes flat! And then I got the cute puppy dog eyes begging for more.
Odin's favorite flavor by far is the T-Bone Steak flavored cuts.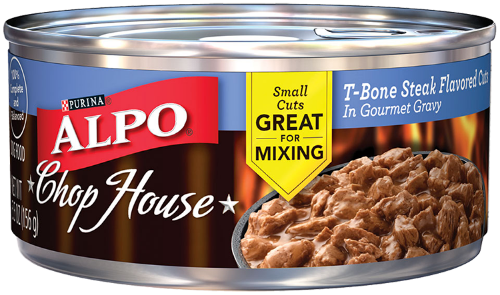 Since the ALPO® canned dog food comes in small cuts, it is also perfect for mixing in with his dry dog food! No more him turning his nose up at dinner because he is board with it. I can now just pop open a small can of ALPO® Chop House and mix it in and he dives right in, tail wagging and all.
Learn more by visiting ALPO® on Instagram. and ALPO's Facebook Page! And don't forget to try all of ALPO's variety dog food!
How do you keep your dog from getting board with his dog food?
How can you use canned dog food to treat your dog?