I've been on the lookout for some truly amazing Children's, Toddler's and baby accessories to share with you, items that are well made, unique and original. Well, I was so excited when Slippertoes literally walked up to me and said, "Here I am!"
Slippertoes is a stay at home Mom operated Etsy and blog business ran by an amazing woman named Sarah! I was first introduced to Slippertoes a few weeks back at a friend's baby shower, when she was given an absolutely adorable pair of Slippertoes slippers for her new baby. I had never seen such adorable little shoes like them before and asked the lady where she had found them! She told me that she got them from our new neighbor Sarah, who had just recently moved in right around the corner from me! I was so thrilled that I now lived so close to such a cool person! haha.

Then just last week, I was at a church function and we were getting to know different people and I had a chance to talk to Sarah. Now remember, I've been looking for great baby/toddler/children products to host on our site, and come to find out, she has been looking for a place to review her Slippertoes! What a perfect match! So Sarah created me a custom made pair of slipper toes for Jade. She had them complete and to me in less than a week!

Now I could go on and on about how absolutely adorable they are, but really, you can see that for yourself in the photos! The top is a very soft plush/minky type fabric, with the back a very soft flannel type material, and yet another fabric for the inside.

Even though the fabrics are completely different, they still compliment each other very nicely! Sarah has an excellent eye for her fabric combinations.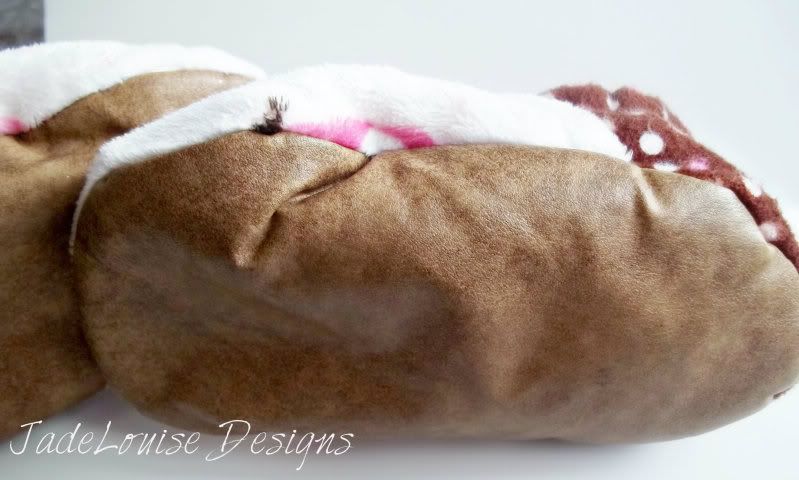 Now you may be thinking, "With fabric that soft, wouldn't the slippers be extremely slippery on floors and bad for walking babies?" Well, Sarah is amazing, as the soles of the slippers are of yet another material which adds enough friction between the child's foot and the floor to prevent slipping, sliding and toppling over.
Now, I absolutely love these slippers, but that doesn't do any good if Jade doesn't like them. Jade has recently developed a shoe fetish, which is funny as she is only 2 years old, but also because she is also very picky about which shoes she likes.
When I first showed these adorable little owl Slippertoes to Jade, she held them and cuddled them, but threw a massive tantrum when I tried to put them on her feet. Well, I said, "this is a battle I'm GOING to win", and eventually I did win and was able to get both slippers on Jade's feet. And wouldn't you know it, once the slippers were on her feet, she immediately fell in love with them! The first thing she had to do was go into the kitchen on the linoleum floor and see what kind of sound they make.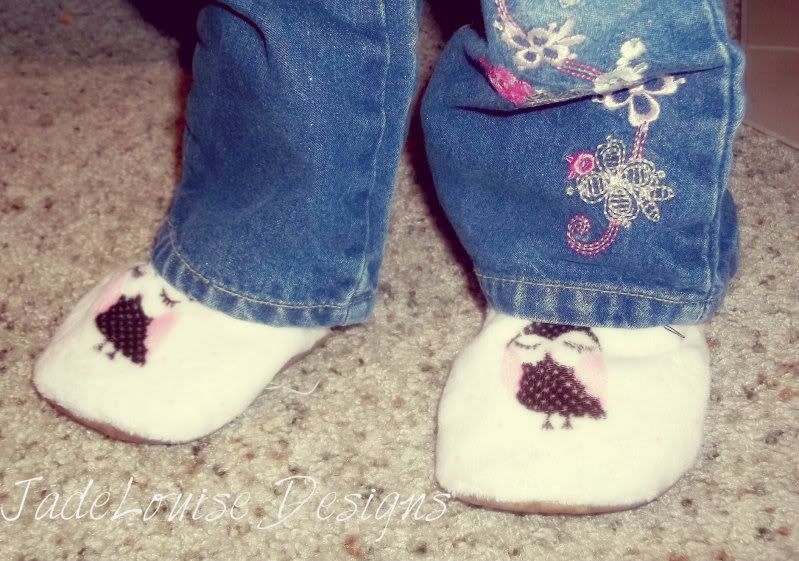 She was thrilled and proceeded to pitter-patter in circles around in the kitchen for a good 10 minutes. She then went about her normal play until nap time. When I tried to take these slippers off her feet for nap-time she had a massive break down, screaming and fighting me, because she wanted to keep her slippers on. Well, I let her win that battle. She got to sleep with her slippers on. She then had to wear them at bedtime that night as well.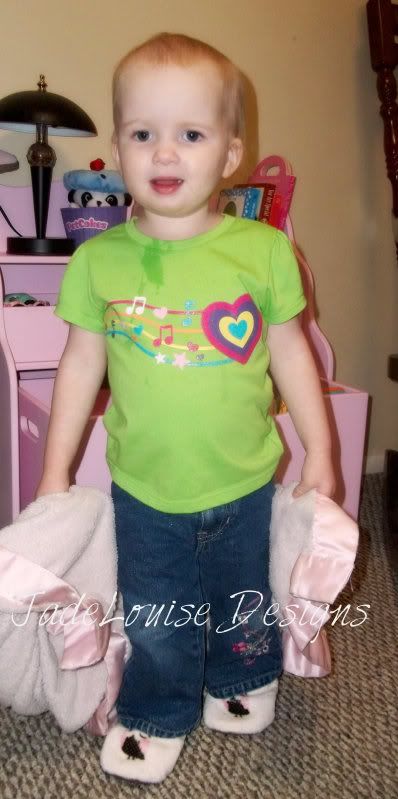 Now a few weeks later, Jade still has to wear these slippers when she is inside the house. If I forget to put them on her feet in the morning, she will pull them out and put them on herself. So you can say they definitely have a child's stamp of approval.
As for myself, I love them! They are quite adorable, stylish, and unique. Sarah doesn't skimp on the quality of material; which I know because I know the store where she buys some of her material, as I shop at the same store for my fashion accessories supplies, and it is not cheap in quality!
The stitching is very secure. These Slippertoes have put up with a little 2 year old toddler pulling them on and off and on and off and on again, and wearing them almost all day long for a week and a half solid. Other than a little "dust" on the soles which wipes away (*shameful* on my part, I really need to clean my floors more often) the Slippertoes look brand new still!
I also love how if your child happens to have smaller feet, you can still reach the elastic on the inside just under the "tongue" and cinch up the elastic for the heal a little more and tie a new knot, to ensure the perfect fit for your little one.
The Slippertoes make excellent baby shower gifts, birthday gifts, and just any occasion gift! They come in a very large variety of styles and fabric patterns! And they aren't just for little girls! Sarah has a large supply of fabrics for little boys too! Each pair is carefully packages in a labeled plastic bag to ensure your Slippertoes arrive crisp and clean!

You can order your own pair of Slippertoes for your little ones on their Etsy store, or on Sarah's blog!

One of our Lucky readers will be able to win a custom made pair of Slippertoes! Simply enter via the simple rafflecopter form below!
Contest is open to US Residents, ages 18+. Winner will be announced via the Rafflecopter form below once they have been selected, verified and accepted their prize.
Winner will be notified via email. Winner will have 48 hrs to confirm and accept or another winner will be drawn.
Giveaway product provided by Slippertoes.
Giveaway closes at 12:00am EST March 2, 2012