This post brought to you by Kaeng Raeng. All opinions are 100% mine.
You've all probably heard all the hype about giving your body a good cleanse every few months. It's been quite a popular notion for years. I remember hearing about it way back when I first got married. The benefits of cleansing your body with special liquids so it can process properly. I truly believe a lot of the programs out there are all full of hype and lies. Can a 3 day cleanse truly help your body?
My biggest irritation with all those 3 day cleanse routines is that you basically starved yourself. Drink ONLY their special drink. Plus water. No solids. Period. And their special liquid wasn't anything special. No nutrients. No protein to keep your body going. Even in my desperation to get my body to work again after having my gallbladder removed; I tried one. Nothing but misery. I was starving. I had migraines. It was miserable. And when it was over, I didn't feel anything but malnourished.
So I warded off 3 day cleanse systems.
UntilKaeng Raeng. When I first saw Kaeng Raeng I thought, "uhm NO! It's going to be another one of THOSE starvation cleanse systems". But I was wrong. Upon reading more I discovered that Kaeng Raeng is quite different. It focuses a lot more on nutrient rich methods to cleanse your body. And it even allows you to eat solids! How out of the box is that?
Kaeng Raeng 3 day cleanse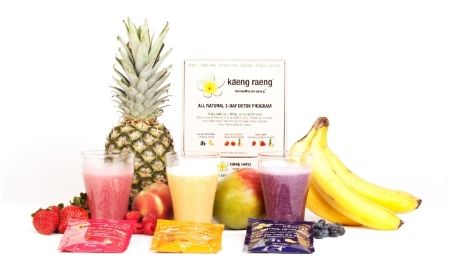 Kaeng Raeng cleanse is all natural. There are no artificial ingredients, no preservatives, and no laxatives or stimulants. It is gluten free, soy free, caffeine free and is VEGAN!
Kaeng Raeng is a delicious, convenient, and affordable cleanse option.
Plus with Kaeng Raeng you can eat all the raw fruits and veggies your heart desires! So there is no need to starve either! That aspect really surprised me! Never before had I seen a cleanse program that allowed you to eat anything!
To do the cleanse, simply mix one meal replacement pouch with 24oz of cold liquid 3 times per day at mealtime for a 32oz smoothie that is packed with 15g of protein and 12g of fiber.
That is the part that made me want to try the Kaeng Raeng 3 day cleanse; the fact that Kaeng Raeng contained so much protein and fiber and encouraged eating fruits and veggies. To me; it appeared they truly have health in mind and not just another gimmick looking to catch the poor woman who is desperate to lose a few pounds.
You can even add in fruit and veggies to create a shake! I love how it gives such a wide variety to customize to your own taste buds! Kaeng Raeng itself is very light with a very mild taste. And is very low in sugar. So if you like sweeter flavors; you will want to add in some juice.
I tried out various options for my Kaeng Raeng shakes!
I tried just the Kaeng Raeng and about half water and half apple juice. It was pretty good.
But then I started to have fun. I started adding in frozen fruit and a handful of spinach. And it was quite delicious! My favorite blend was the with a big handful of spinach, frozen peaches, 1 frozen banana and half apple juice and half water.
Day 1: Wasn't quite so fun. My body was going through the cleansing process. And yes, it is true things get worse before they get better. I was struggling with the cleanse. I wanted to eat the bread in my pantry so badly. And I wanted sugar like you wouldn't believe! And I had a migraine. But I kept at it. I kept drinking the Kaeng Raeng shakes and water. The one thing I didn't feel was hungry.
Day 2: I felt a lot better. I still missed the breads, but the craving wasn't as bad. This time it was chicken I was missing. Although that may have something to do with the fact that my family was eating chicken and I was drinking Kaeng Raeng and eating fruits and veggies. But again I didn't feel hungry. Infact I struggled getting in all three Kaeng Raeng shakes for the day. I was full and struggled drinking enough.
Day 3: I had already lost over an inch on my waist, an inch on my hips and more! Although that's not why I did the cleanse, it was an added bonus. I felt lighter. I felt my head was more clear. My skin has cleared up. I felt better. I didn't crave sugar. I did however have a slight craving for salt. But not craving sugar or my beloved Dr. Pepper is a huge deal! I can't remember the last day I didn't have a craving for sugar or Dr. Pepper!
One of the best side effects of a cleanse is improved skin. By abstaining from traditional foods, especially dairy, and filling your body with high quality nutrients and vitamins, your skin will take on a beautiful glow after just 3 days.
Kaeng Raeng was made with YOU in mind. It comes in 3-day or 6-day programs in three different levels: Beginner (for first time users), Veteran (for those who have done at least one cleanse), and Master (you know who you are). Kaeng Raeng is also available as soy free. Don't know what level is for you, you can take a quiz!
You can purchase Kaeng Raeng at www.kaengraeng.com,Kaeng Raeng on Amazonand Select Whole Foods Markets. You can also leave a review with your experience on Amazon.com and receive a coupon for 15% off your next order at www.kaengraeng.com!
***IMPORTANT****
Please keep in mind:
Due to the calorie constricted nature of the cleanse, we do not recommend KR for pregnant women or women who are nursing. There is nothing in Kaeng Raen that will harm a pregnant woman or her baby, so it is fine to be used as a meal replacement. However, as a cleanse program, it is calorie constricted and not recommended for pregnant women or nursing moms.
Kaeng Raeng is not intended for children.
KR is a nutritional cleanse program NOT a fast.
Although weight loss can be a welcome benefit of a good cleanse, the Kaeng Raeng program is not designed for the objective of quick weight loss.
Win the Kaeng Raeng 3 day cleanse!
We're giving away one swag bag to a reader. Just comment why YOU want to try a vegan cleanse. For an optional entry, LikeKaeng Raeng on Facebook
Can't wait? use code: Jadelouise10 expires 8/1/2014
The contest is open USA only
Ages 18+ Only
Void where prohibited by Law
Winners will be announced on our winners page once they have been selected, verified and accepted their prize.
Winners will be notified via email. Winners will have 24 hrs to confirm and accept or another winner will be drawn.
Giveaway closes at 11:59pm EST July 22, 2014
Note: you must complete the mandatory entry on the form.
All other entries on the form are optional, but will greatly increase your chances of winning the more entries you complete.
See complete rules and regulations on the entry form below.
By entering this giveaway you are providing your information to JadeLouise Designs for contest purposes only. Your information will not be used for any other purpose than to verify contest entries and to notify and award prize to the winner.
Note: JadeLouise Designs is not responsible for fulfillment of prize. Although sponsor works hard to ship products out quickly. Most prizes are shipped immediately after the winner's information is submitted, but sometimes there is a delay and can take up to 8-10 weeks.
Giveaway is now closed. See the winner/s on our Winners Page.